Is Now a Good Time to Buy a Home? Expert Insights and Analysis
Many people dream of owning their own home, but with the current state of the real estate market, it can be difficult to know if now is a good time to buy. Mortgage rates have been high for several years, and home prices have been rising steadily. However, there are still opportunities to find a good deal on a home if you know where to look. In other words, in a small market like Sequim, Washington, buying a home is a matter of buying the right home in a great location and at the best price, but as a buyer's agent with over 4 decades in the business, I can tell you there's one more major element you'll need as a buyer, and that's a knowledgeable, competent, honest, and professional real estate buyer's agent. Yes, that's a shameful plug in the first paragraph of this article, but if it were not important for your sake, I wouldn't mention it.
One factor to consider when deciding if now is a good time to buy a home is the current state of the economy. A strong economy can lead to higher home prices and tighter inventory, making it more difficult to find a good deal. With such a tight inventory in Sequim, WA, it has been very hard for my buyer clients to find their ideal retirement home. Eventually one shows up that is ideal, but for some buyers this can take months. If we're headed into a weaker economy, you'll can expect lower home prices and more available inventory.
Current Real Estate Market Trends
Interest Rates
One of the most significant factors affecting the current real estate market is interest rates. In 2023, the national average 30-year fixed mortgage rate reached a high of 7.23% before dropping to 7.18% at the end of August according to Forbes. The interest rates are expected to continue to rise, making it more expensive to borrow money to purchase a home. One of my recent clients bought a home in Sequim that was not yet their primary residence, and since they financed it, the interest rate was just 8.12%. Ouch! They will pay their mortgage off early after they retire and move here and have access to retirement funds.
Housing Supply and Demand
The real estate market has been dealing with low inventory for a while now, and that certainly includes Washington state, but this trend may be taking a turn. According to Ramsey Solutions, the home inventory is low but growing. The trend is changing slowly, and more homes are being listed for sale, providing buyers with more options, even in smaller rural markets.
Regional Market Differences
The real estate market varies significantly depending on the region. According to Bankrate, in Fort Worth, the median sale price of a home has decreased by more than 6 percent year-over-year and sat at about $342,000 in June. But in Dallas, the median sale price of a home has increased by 6 percent year-over-year and sat at about $415,000 in June.
Now let's look at the Sequim, WA in the county known as Clallam County. The orange line shows the listing price of homes while the light blue line shows the actual inventory of listings. Since March of this year the inventory of homes available has been steadily increasing, although the median list price hasn't varied much, going up a little.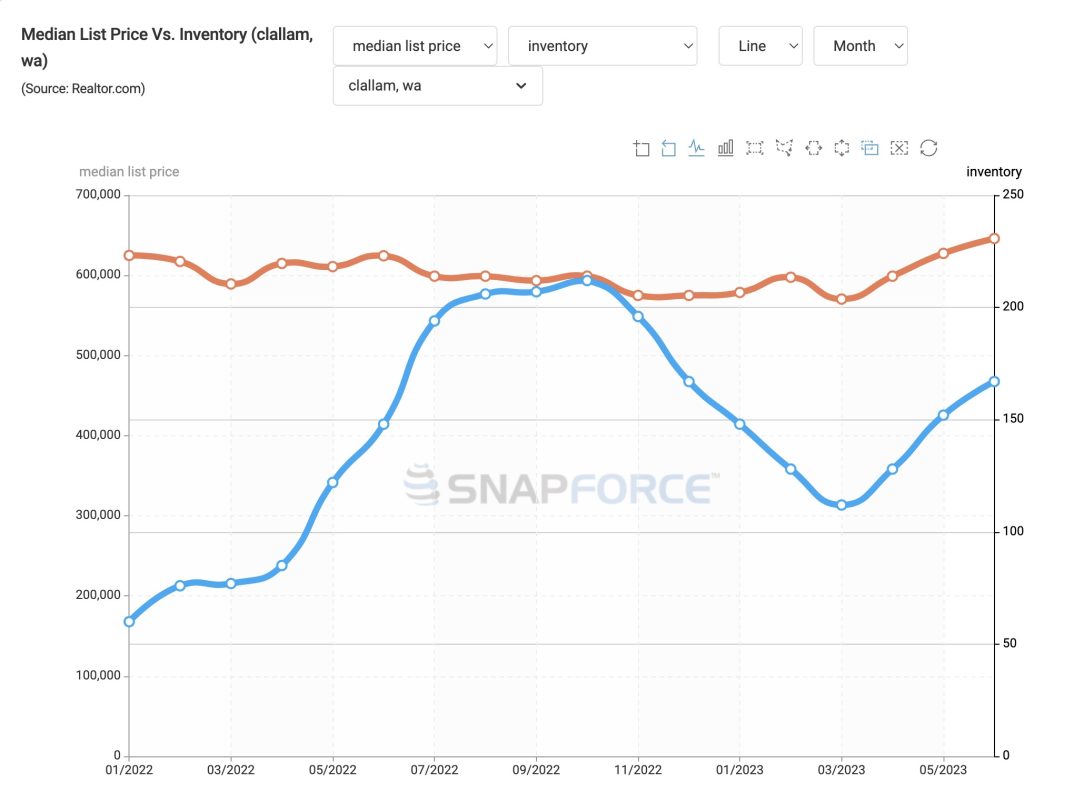 The current real estate market trends are affected by interest rates, housing supply and demand, and regional market differences. Buyers should research the specific region's real estate market and consider the interest rates and housing supply and demand before making a purchase decision.
Financial Considerations
When considering whether now is a good time to buy a home, there are several financial factors to take into account. Here are some important things to consider:
Budget Planning
Before buying a home, it's important to have a clear understanding of your budget. This includes not only the purchase price of the home, but also ongoing expenses such as property taxes, insurance, and maintenance costs. These are important details I help my clients work though as they are looking for their retirement home.  It's important to create a detailed budget that takes into account all of these expenses, as well as your income and other financial obligations, to ensure that you can comfortably afford your new home.
Mortgage Options
When buying a home, most people will need to take out a mortgage, although in Sequim in recent months more retirees are paying in cash since the majority refuse to go back to interest rates approaching 8%. There are many different types of mortgages to choose from, each with its own advantages and disadvantages. It's important to research different mortgage options and choose the one that best fits your financial situation and goals. Some factors to consider include the interest rate, the length of the loan, and the down payment required. Some of my retiree clients may take out a mortgage initially but pay it off with funds available from a large retirement account at a time when they won't suffer any penalties for early withdrawal.
Tax Implications
Owning a home can have significant tax implications. For example, homeowners may be able to deduct mortgage interest and property taxes on their federal income tax returns. However, the tax benefits of homeownership can vary depending on factors such as the size of the mortgage and the homeowner's income. It's important to consult with a tax professional to fully understand the tax implications of buying a home.
Long-Term Planning
When considering whether or not to buy a home, it's important to think about long-term planning. This means taking into account future market predictions and homeownership goals.
Future Market Predictions
One factor to consider when deciding whether now is a good time to buy a home is future market predictions. While no one can predict the future with certainty, there are a few things to keep in mind.
First, interest rates are headed upward, at least in the near future. What the Fed does to reign in potential inflation remains to be seen, but Jerome Powell keeps hinting on further increases.
Second, home prices have been steadily increasing in recent years. While this can be good news for homeowners, it can make it more difficult for first-time buyers to enter the market. It's important to consider whether or not home prices are likely to continue to rise in the future, and if so, whether or not you're comfortable with the potential financial implications. If you haven't read my book about what I see as a potential coming real estate crash, I recommend it. You'll find it on Amazon: The Real Estate Crash 2022 & 2023: Avoid Buying or Selling At Precisely The Wrong Time.
Don't misunderstand the purpose of my book. It does not ultimately conclude that you should not buy a home now because we are coming up on a crash. My buyers are still buying the best homes in the best areas at the best prices, but believe me . . . this is not a task for the immature. I wouldn't go into a mixed martial arts cage with a professional fighter if I didn't have the experience and skills. I don't recommend trying to negotiate this tricky market now without the best buyer's agent you can find. Okay, I have to say it. The vast majority of Realtors out there are not experienced or knowledgable enough to protect you and help you with all your due diligence and get you into the right home while avoiding bad decisions. I know. That sounds like I'm claiming I know more and can help you better than the vast majority of Realtors out there. That's exactly what I'm claiming! LOL!
Homeownership Goals
Another factor to consider when deciding whether or not to buy a home is your homeownership goals. For example, if you're planning on staying in the same location for a long period of time, buying a home may make more sense than renting. Additionally, if you're looking for a long-term investment, owning a home can be a good way to build equity over time. However, it's important to keep in mind that owning a home also comes with additional expenses, such as maintenance and repairs.
Ultimately, when deciding whether or not to buy a home, it's important to consider both future market predictions and your own homeownership goals. By taking a long-term approach, you can make a more informed decision about whether now is a good time to buy a home.
Maintenance and Unexpected Costs
Another potential challenge for homebuyers is the cost of maintenance and unexpected repairs. While owning a home can be a great investment, it also comes with ongoing expenses. Homeowners are responsible for repairs and maintenance, which can add up quickly.
It is important for buyers to budget for these costs and have a plan in place. A home inspection can help identify potential issues before making a purchase, but unexpected repairs can still arise. Buyers should also consider the age and condition of the home when making a decision.
I also suggest you talk with me in much more detail than I will get into here about pest inspections. I have a lot to share with my buyers on this subject.
Overall, while buying a home can be a great investment, it is important to consider the potential risks and challenges. Doing research, taking a long-term view, and budgeting for ongoing expenses can help mitigate these risks and ensure a successful home purchase.
Conclusion
In summary, the decision of whether now is a good time to buy a home ultimately depends on individual circumstances. While mortgage rates are currently high, home prices have fluctuated a little up and down, but are probably on their way down. Those who are looking for a large variety of houses to choose from may want to consider buying during these coming winter months.
However, with fewer people able or interested in buying homes, home sales have been falling. The rental market has also been climbing, with rents up in some urban areas by 33%.
Almost all of my buyer clients are retired. Those who are financially stable and plan to live in the home for a significant amount of time may benefit from buying a home now. However, those who are uncertain about their job stability or have short-term plans may want to wait until they are in a more secure financial position.
Frequently Asked Questions
When is the best time to buy a house in this economy?
The best time to buy a house depends on many factors, including the current state of the economy, interest rates, and housing market trends. In general, it's a good time to buy a house when interest rates are low and there is a good supply of homes on the market. However, it's important to do your research and consult with a professional before making any big decisions. I'm here for my buyer clients to guide them through the entire process from the beginning of searching all the way to closing and beyond.
Should I buy a house now or wait until 2024?
It's difficult to predict the future of the housing market, so it's important to make decisions based on your current financial situation and personal goals. If you're financially stable and ready to buy a house, it may be a good time to do so. However, if you're not yet ready or if you think that the market may improve in the future, it may be wise to wait. Many of my buyers have sold their California homes, so buying is a no brainer since they don't want to live on the street or under a bridge.
Is it harder to buy a house now than 30 years ago?
Buying a house today is different from buying a house 30 years ago, but it's not necessarily harder. While home prices and interest rates may be higher, there are also more resources available for home buyers, including online home search tools and mortgage calculators. Additionally, there are more financing options available, including government-backed loans and programs for first-time home buyers.
Is now a good time to sell a house?
Whether it's a good time to sell a house depends on many factors, including the state of the housing market, interest rates, and your personal financial situation. If you have equity in your home and are ready to move, it may be a good time to sell. However, it's important to consult with a competent and honest real estate agent and do your research before making any decisions.
Last Updated on September 7, 2023 by Chuck Marunde