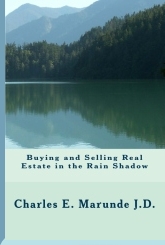 The title of Chuck Marunde's new book is Buying and Selling Real Estate in the Rain Shadow.  It will be published and available for purchase in a paperback version or an eBook verson downloadable online right here.  It covers the most important issues buyers and sellers ask about and is 313 pages long.  Want a peek at what subjects are covered?  Here are the contents:
Introduction
Chapter 1 Things Buyers Ought to Know
Buyers Are Cherry Picking The Best Houses
Cash is King and Queen in This Market
Distinguish the Market and One House
How to Buy a Home in This Market
Friendly Advice to Buyers
In Search of a Luxury Home
The Same Mistake Again and Again
Buyers of Homes Using Powerful Internet Resources
A Buyer's Market in Sequim
Searching the MLS in Sequim and Port Angeles
Chapter 2 Building Your Dream Home
Selecting the Right Home Builder
The Biggest Mistake
To Build or Buy
Building a New Home and Saving Money
Why Building a Home is Smart
To Build Yourself or Hire a General
Home Builders – The Lowest Bidder
Home Builders – Does Size Matter?
Build Now at Low Interest Rates
Custom Home Quality or Not
Home Builders Offering Incentives
Chapter 3 Things Sellers Ought to Know
How to Price a Home for Sale
Negotiating Price
Why Can't I Just Sell My Own Home?
For Sale By Owner
Chapter 4 Marketing Real Estate
Why Gimmicks to Sell Real Estate Don't Work
Advertising Real Estate For Sale
Selling Your Home – Words Matter
Billboards Not Working for Real Estate
Print Newspapers Losing Readers
How to Advertising a Home for Sale Part 1
How to Advertising a Home for Sale Part 2
How to Advertising a Home for Sale Part 3
Chapter 5 Dual Agency
The Conflict of Dual Agency
Dual Agency:  A Buyer's Nightmare
Dual Agency:  Buyers Waking Up
Chapter 6 Real Estate Agents
How to Find a Great Agent
Biggest Client Complaint
Real Estate Brokers in Trouble
Brokers and Agents Quitting
The Future of Real Estate Brokerage
Chapter 7 Legal Traps for the Unwary
What Should I Know About Buying My Mother's House
Should I Invest in Real Estate Notes?
Real Estate and Divorce
Community Well Agreements
Due on Sale Clauses
What Documents Does a Buyer and Seller Need?
Asbestos Removal and Greener Alternatives
Mold and Indoor Air Quality
Chapter 8 Foreclosures
Clallam County Foreclosure Market Chaotic at Best
Buying Bank Foreclosures
The Truth About Buying Foreclosures
Sequim Foreclosures and Short Sales
Foreclosures and WAMU
Foreclosures, Short Sales, and Credit Scores
Chapter 9 There's Much More Under The Rocks
Adult Communities Reducing Age Limits
Buy a Home and Get a Bentley
Sequim and Port Angeles Price Volatility Low
Why are Californians Moving to Sequim?
Real Estate Investors Struggle to Find a Good Deal
What the Market Crash Taught Me About Real Estate
Buy Real Estate for Your IRA
Real Estate Raffles and Lotteries?
The Perfect Storm
You Can Put Lipstick on a Slow Market
Sequim Rainfall v. Port Angeles Rainfall
Retire in Port Angeles
Port Angeles Homes Selling
Sequim v. Port Angeles Utility Fees
Water View or Not
You can download the Introduction right now absolutely free by going to:
Introduction to Buying and Selling Real Estate in the Rain Shadow.  Stay tuned right here for the first announcement of the book's availability.  It should be available in February on Amazon.com and at your favorite bookstore.  It will also be available here as an eBook download.
About the Author:  Chuck Marunde started in real estate in Alaska in the 1970's as a Realtor, practiced real estate law for 20 years, and now is a Sequim and Port Angeles Real Estate Broker and Author.
Last Updated on July 27, 2012 by Chuck Marunde