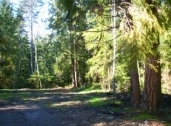 There are 855 lots for sale in the Sequim and Port Angeles areas as of this writing.  These are lots listed in the Olympic Listing Service MLS, which is searchable through my website that includes all lots listed in the area  (Search all Sequim and Port Angeles Lots for Sale).  Here's the challenge that buyers tell me they have all the time, including my buyer clients who shared this with me today.  They use my online search, or one of the other agent's MLS search sites, and they put their parameters into the search, but they still don't find the ideal lot until driving around for a long time.
In other words, some lots do not show up online with a search, either because the listing agent has made a mistake in completing the data fields when he put the listing in the MLS, or it just doesn't seem to rise to the top amidst all the other lots for sale, and there are many.  Many lots have been on the market for a long time.
But even if the perfect lot is in the MLS, you may still miss it.  This has happened over and over again with buyers, and often they don't find the perfect lot until they stumble upon it while driving around with me or on their own.  Look, if a great lot is for sale but it gets no additional marketing that reaches Realtors with buyer clients, and the marketing doesn't reach potential buyers directly, it just doesn't cross our radar, unless we stumble upon it driving around.
Some lots that are for sale and off the main roads will have a small sign with an arrow on the main road, but who chases every for sale sign with an arrow?  No one I know.  If you're looking for that perfect lot but haven't found it, just email me and ask me to join you in searching for that lot.  I do drive around a lot looking at homes and land that have not crossed my radar in the MLS.  I'd love to help.  I may already know of a lot with that mountain or water view you want.
If you're buying land, you will also want to do your due diligence to be sure this lot will work for you and has no problems.  See my Land Checklist.
Last Updated on July 27, 2012 by Chuck Marunde