Buying real estate today is much more complicated than it used to be, and far more dangerous too.  Why would I say this? Here's why.  Thirty years ago a simple purchase and sale agreement was two pages.  That was it.  Today if you are buying real estate, you'll sign an agreement that is at least 14 pages long, single spaced, 12-point type with lots of legalese. If you're buying a home from Fannie Mae, double that to 28 pages.  As a buyer, there's a few critical things you need to know or you could get in serious trouble.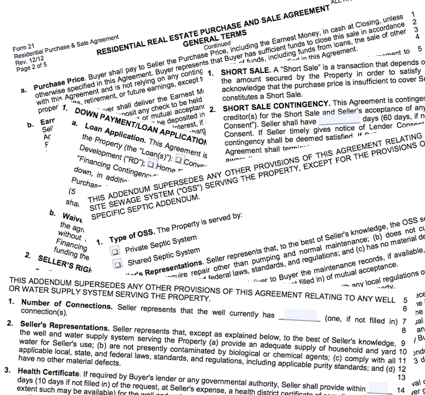 Buying Real Estate and Forms
I've written elsewhere that there are over 100 forms for buying real estate in the State of Washington.  If your real estate agent chooses the wrong forms or does not include the right forms, you could find yourself in major legal trouble.  Of course, it's more than just choosing the right forms.  It's knowing the legal issues that could trap you and cause you so much stress and even money.  It's knowing how to negotiate difficult due diligence issues and negotiations and much more. Too bad all Realtors didn't have the experience of a real estate attorney.
Buying Real Estate and Professional Guidance
If you're buying real estate, join the many retirees who have realized the process has gotten more complicated and more dangerous.  I find that retirees are more careful about who they hire as their real estate buyer's agent.  They are no longer just hiring the first agent they talk to on the phone, and they are recognizing the need to discern the difference between agents.  Buying real estate is much more complicated and dangerous today.  Get it wrong, and you could make a mistake you will live with the rest of your life.  Get it right, and you will live a wonderful retirement in Sequim the rest of your life.
I hope you'll allow me help you get it right when you are buying real estate in Sequim or Port Angeles. 
Last Updated on September 19, 2019 by Chuck Marunde