Escaping California is quite popular among the middle class and upper class of California, and they are escaping California in large numbers every single day of the week. The documented (as opposed to undocumented) exit from California shows how there is a net decrease in this segment of the population. So many Californians are moving to the Northwest, including Sequim, WA, that I felt compelled to write about it in my latest book, Escaping California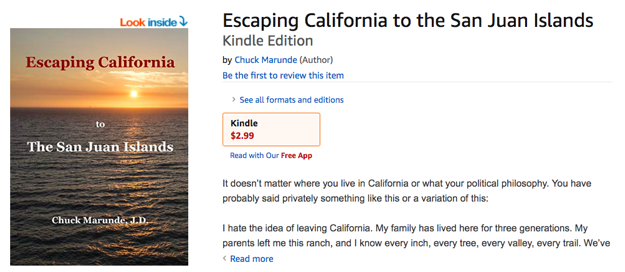 The book is really a fun little book that shares how incredible the San Juan Islands are plus how amazing Sequim WA is, too. This is an ebook, and I've included a number of videos showcasing the San Juan Islands. 
I strongly recommend this book to anyone who is still in California. You've got to see how good we have it up here. The list of problems and nightmares in California is quite long, and seems to be getting longer, while Sequim has none of those problems. Not one. We're very blessed for sure. 
Escaping California to come to Sequim or the San Juan Islands makes a lot of sense no matter what the future holds. California is clearly on a collision course, and it's getting worse by the week. If you have lived in California for decades, you know how bad it is getting. I think it's time to escape California, but as Dennis Miller would say after one of his rants, "Of course, I could be wrong."
Last Updated on April 28, 2019 by Chuck Marunde