Veteran's Day is an important day, and I'm grateful for our veterans who protect this great nation and our freedom. Some use the word "freedom" casually, but there's nothing casual about the word "freedom." Many have given their lives for you and me, and many have come home severely wounded. I never served on the front lines, but I'm proud to say I served in the USAF as a JAG (Judge Advocate General's Office) during the first Kuwait war. I found this photo from 1989. I was a lot thinner then, had a giant pair of glasses, and still had hair, but I'm proud to have worn the uniform.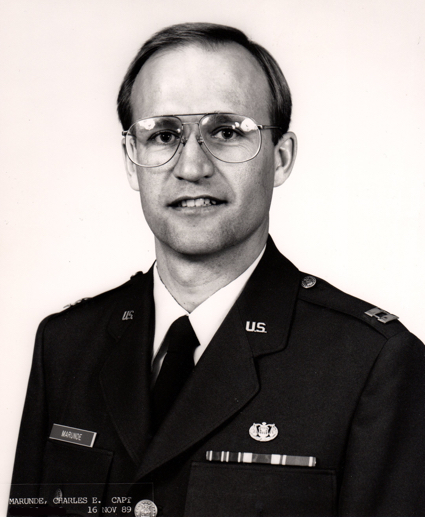 Veteran's Day Celebrated
Veteran's Day reminds me that my father served in WWII driving a tank in the Army. He was part of "The Greatest Generation." Today many veterans who served since WWII are retired in Sequim. Veteran's Day reminds me of my own service at Nellis AFB in Las Vegas. I loved wearing the uniform. I loved the chain of command, the respect we had for each other, and the discipline we practiced.
My job during the first Kuwait war was to prep the troops who were deployed to the Middle East. I had to brief them on what NOT to do in Saudi Arabia, Kuwait, and Iraq. Placing Americans, even disciplined members of our military, right in the middle of any Arab country was fraught with risk, and I'm not talking about the war risks. The sharp divide between the two cultural, social, religious, political, and judicial systems created a daily risk of potential conflict.
A captain who returned from Iraq told me that one of the females under his command was seen driving a jeep by an Arab prince, and since women were not allowed to drive in Saudi Arabia, the prince chased her back to the base and angrily confronted General Norman Schwarzkopf in his tent by hitting the General in the leg with a small stick (like a little horse whip). While it is probably not on the record anywhere, the word was that the good General sent that prince flying across that tent with a single punch. Believe it or not, that incident did a lot to raise moral among the troops. Every single day our troops were there was a day in a boiling pot of intense circumstances. All these memories come back on Veteran's Day.
Veteran's Day
I miss wearing the uniform. I miss the order and respect in the chain of command. I remember the dedication of the enlisted people I worked with as well as the other officers. I'm proud to have served, but I'm prouder still of all our active duty veterans today. God bless them on Veteran's Day!
Last Updated on November 11, 2015 by Chuck Marunde