Zillow homes in Sequim can be viewed online, including homes sold. You can even enlarge a Zillow map of homes sold and open specific homes to see the history, the sales price, the photos, and more. Here is a Zillow map of homes sold by Chuck Marunde. Click on the map to go to the interactive map of homes sold. Use your mouse to enlarge and move the map and to open the full history and photos of homes.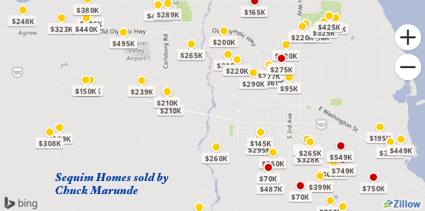 Zillow Homes
Zillow has some nice features, and many buyers are using Zillow to search for their Sequim home, but there is a caution. A lot of the Zillow data is incorrect, and in some cases grossly incorrect. I like the convenience of all the Zillow information on homes listed and sold, but I do recommend adding a local Sequim MLS site to your search so that you can look at the actual listing information on a specific home as posted by the local listing Realtor. You'll find this site at Sequim MLS.
Zillow Homes in Sequim
You can pull up up all the Sequim homes for sale and their sales history directly on Zillow at Sequim Homes on Zillow.
Last Updated on November 14, 2015 by Chuck Marunde