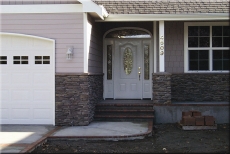 Building a Sequim custom home or a Port Angeles Custom Home?   Here's a local attorney (ret.) and real estate broker's diplomatic counsel on hiring a local builder.
There are builders who love their work, and who pour out their hearts to build a beautiful product.   They take pride in their workmanship, and they are honest and men of integrity.
Then there are builders who operate as a sales organization with one purpose – to make money.   Integrity and quality workmanship are way way down on the list, or not on the list at all.   But this latter category of builders regularly sucks unsuspecting clients into their offices with such slick salesmanship, saying all the right things (i.e. saying exactly what people want to hear), and offering them the world on a platter (at $30+ per square foot, or $40+ per square foot).   And people end up getting hurt.   Not the builder, mind you.   His manipulation and misrepresentations to the client have gone exactly according to plan.   It is the client who pays the price for hiring such a builder.
This is the biggest untold story, not just in Clallam County, Washington, but around the country.   I called the Washington Attorney General's office to discuss this, and they said they have far too many criminal offenses (the politically popular kind like drugs and money laundering), and informed me that the Washington Department of Labor and Industries supervises contractors.   I talked with the Department of Labor and Industries, and they referred me to the Attorney General's office.
A really good builder, who builds quality homes and who is upfront about all the TRUE costs with a prospective client, is at a huge disadvantage.   Non-discerning folks will assume that the builder who quotes the lowest cost per square foot is the builder they should hire.   Period.   Nothing else seems to matter.   I cannot count how many clients I have had who later recounted what a nightmare building their home turned out to be precisely because they hired the lowest bidder.
Beware the lowest bidder!
How low is too low in this day and age?   What does it really cost per square foot to build a home?   I asked several good builders in Sequim and Port Angeles, and here's what they told me.   By the time ALL costs are included, a decent home is going to end up at somewhere in the range of $125 per square foot plus.   A home with many upgrades will be $250 to $300 per square foot.   Any quotes that are well below $125 per square foot should be a huge red flag.
Check out the specificatons and project manual you get from the builder.   Is every detail spelled out, or does the builder leave out 1,000 little details that will end up costing you a fortune?   Comparing builders?   Compare their specs and project manual.   Go back to the builder with the more detailed estimates for you, and have hime explain the difference between his specs and manual and the low bid specs and manual.   You'll be amazed at what you learn, and you'll be extremely glad you did this!   This could save you $10,000 to $100,000.   Literally!
Courtesy Sequim & Port Angeles Real Estate, LLC
Last Updated on July 7, 2008 by Chuck Marunde