I'm extremely excited to share big news from iRealty Virtual Brokers. The news is that I just did a massive upgrade to this real estate blog and to its affiliate site, which I call my MLS site at Sequim-Homes.com. This blog is where all the substantive articles are published, and the MLS site is where you can search for listings, filter listings, set up alerts, get market reports on every city and market, and there are new map search tools and much more there. I'll write about the later site in a future article, but for now, tighten your seat belt as I tell you about the upgrades to this blog that will improve your search for a home, and help you solve all the issues that come up in the process. 
News Alert: Two new videos are in production to explain how to use these two sites.
Eye Candy: Sequim Real Estate Blog brings you new eye candy. The old site was pretty too, but this site is streamlined and prettier. Article organization, search options, photos, embedded videos, and colors and graphics used throughout the site are designed to be pleasing to your eyes and soothing to your soul.
Powerful Real Estate Articles: This real estate blog is focused totally on bringing you content-rich articles about real estate as it has since 2007, over 15 years ago. There is literally no other real estate brokerage on the Olympic Peninsula, and possibly in all of Northwest Washington, that gives you real estate articles that are more authoritative, more conntent-rich and accurate, more researched, and what brokerages have a blog with over 2,200 articles written by a broker who was a real estate attorney for 20 years? All of this is free to the public without requiring any personal information or registration.
Intuitive Navigation: Many aspects and sections of this new site are designed to take up as little space on your monitor while giving you valuable resources with access to everything you might want to search on the subject of real estate with the simple click of a mouse. And a serious focus was placed on "intuitive navigation" so you can easily find information and links where you intuitively expect them to be.
Taking Search Engine Optimization To New Levels: Fifteen years I go I was certain that buyers would be moving to the Internet for their home searches, and to seek answers to their many questions, as well as to find the right buyer's agent for them. I was also convinced that traditional bricks and mortar advertising and marketing techniques were going to die a slow death. Wow, was I ever right. Thank God I was, because for the past 15 years I have not stopped building a massive Internet structure for buyers and sellers. Millions have read my articles on this blog over the years, and a big part of that is the cutting edge search engine optimization I built into my site and into every article, every photo, every video. 
For example, when someone anywhere in the United States searches the phrase "Sequim Buyers Agent" in Google, and they set the search to videos, here are the top videos they get on the first page of Google search results: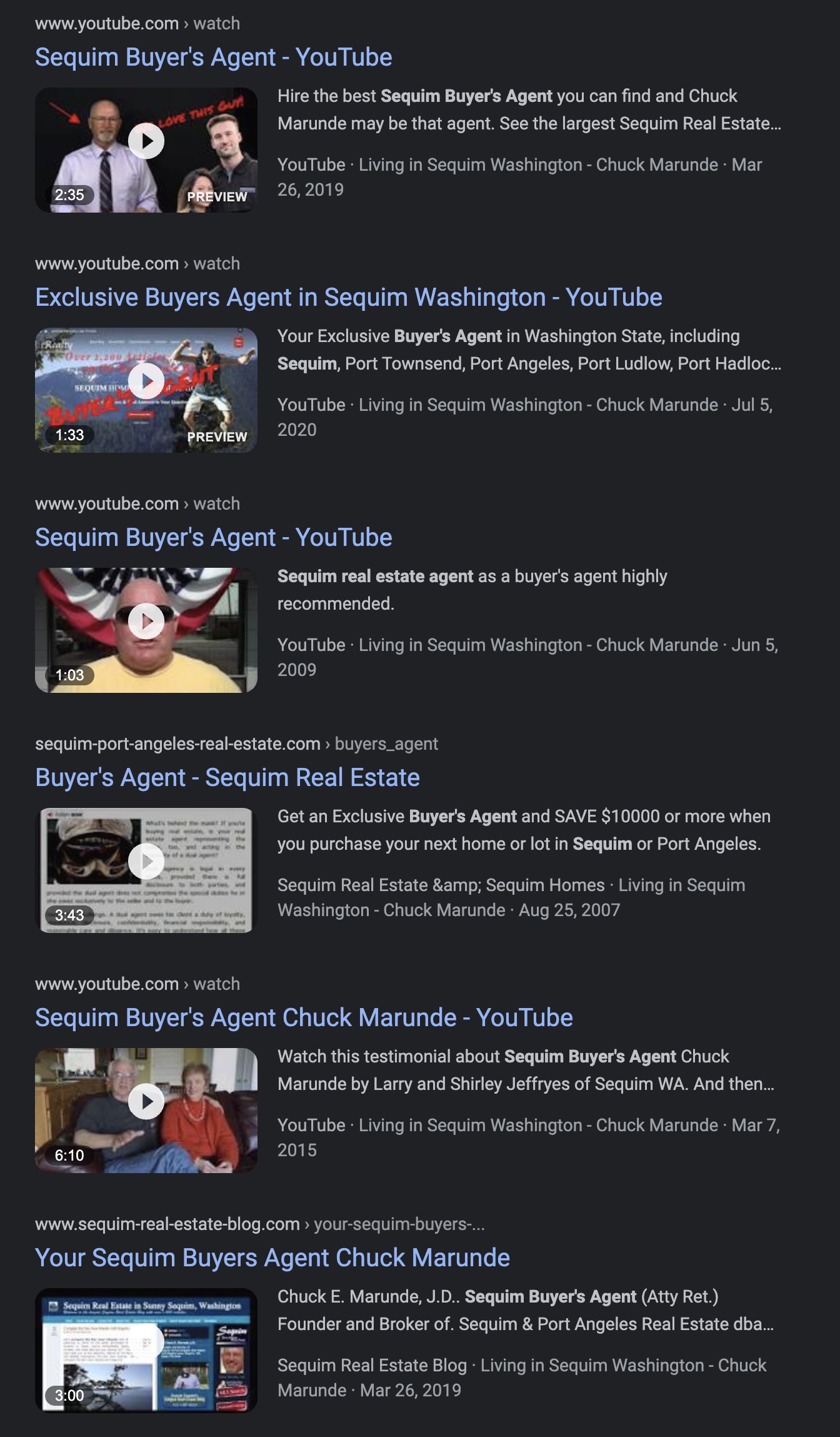 The first six results are my videos. There were more, but my screen copy couldn't go down any further. These are videos from my Youtube site, but they are also embedded in articles on this real estate blog. If you haven't been in marketing or selling advertising in a past career, let me tell you upfront what this means. This would cost a fortune if a broker like me had to pay experts to get this kind of search engine ranking, and that kind of advertising would end when the advertising contract expired. In my case, I created the videos, optimized them, and maintain them, so they don't expire.
Suppose a person has seen some of my videos, read some of my articles, used my MLS site to search for a home, or read one or more of my 12 real estate books, and they want to hire me or track me down. That's easy, first of all because I don't hide my cell phone number, but also because if they do a simple Google search of "Chuck Marunde" without the quotes, they get this: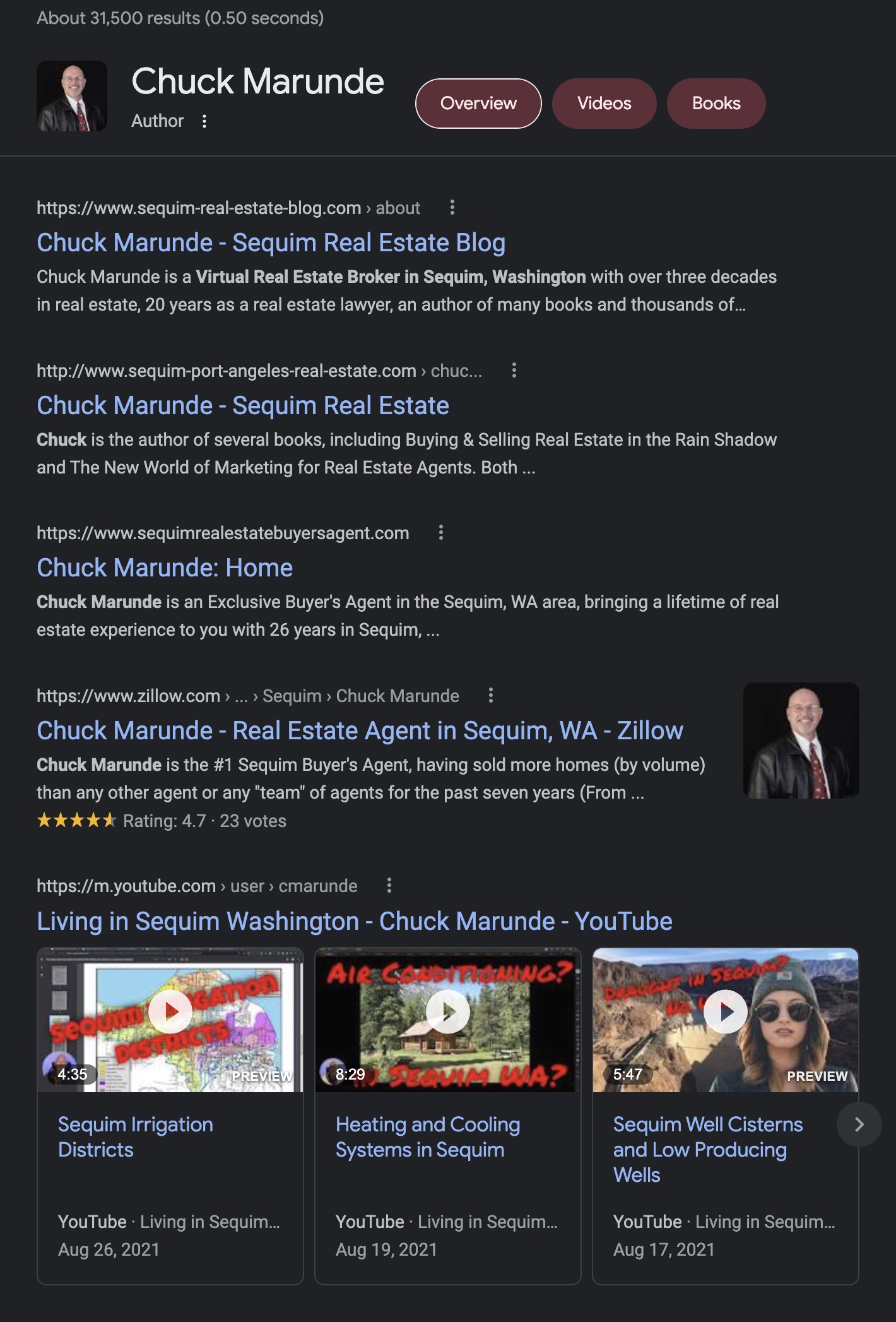 It's really amazing how Google accommodates me even though I pay for no Google advertising. All of this happens with what we call "organic SEO."
But this is just the tip of the iceberg on the incredible results of the rich content I've created and how it has been leveraged with SEO to reach highly qualified clients. At the top of this graphic above you'll see the number 31,500. That's how many times my name shows up in all my real estate activities on the Internet. And remember the purpose here is to reach clients efficiently so I can help them. SEO has helped me to do that better than any individual broker I know of anywhere in the U.S., and I know a lot of brokers.
What most people don't know is that SEO and what needs to be done to make a resource rank high in the search engines requires separate SEO for articles, for photos, for videos, and also for websites and blogs. There is a lot to SEO.
While I admit there's the possibility that I am a boring person, I do want you to know that I write about more than just real estate. I also write and publish videos about the Sequim and Olympic Peninsula, because before a retired couple will buy a home here, they must first be convinced that this is where they want to live for the rest of their lives. If you do a search on Google with the question, "Is there a blue hole in Sequim?," you'll see many of my resources, but at the top you'll see this: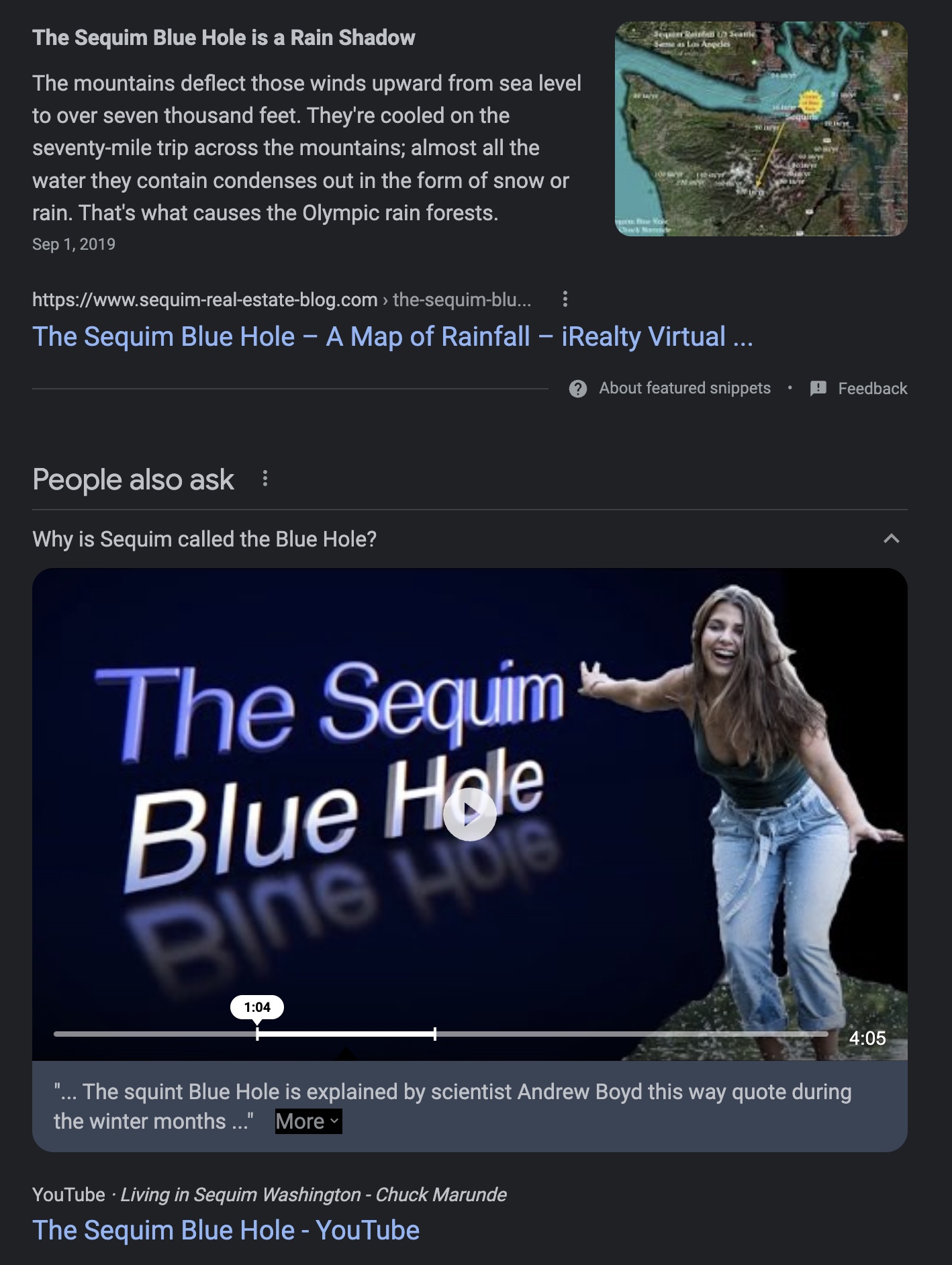 Not only does one of my articles from this blog come up first at the top of the Google search results, but below that where Google has a section entitled "People also ask" pops up my video about the blue hole in Sequim. Amazing stuff, isn't it? I did this, but I'm still surprised how well it all works.
I'll say what may be obvious, but unless it occurs to you, you might not realize it. I've optimized hundreds of phrases and videos and articles, so that's why if you search for any of hundreds of long-tail search phrases, you keep finding my various articles and videos and books.
How do I know this works well? Because thousands of clients reach out to me, and out of those come many serious clients who decide to make a move. They retain me, communicate with me, and I help them search and do their due diligence as we draft an offer and negotiate the price and terms, and work through all the steps all the way to closing.
Meanwhile, what are my colleagues in the traditional bricks and mortar offices doing? None of this. They're paying for buildings, property taxes, utilities, overhead, and they have to split their commissions many ways after all their fixed and variable costs of doing business. More to the point, they are paying for expensive print advertising (and other outdated advertising) and throwing away money at ineffective gimmicks. Here's an interesting note. I've been quite transparent about what I do and how I do it. In fact, in 2010 I wrote a book entitled, "The New World of Marketing for Real Estate Agents." Do you think any of my competition ever read that book since 2010? I've not heard from a single Realtor that they have. I certainly don't pretend to have all the answers, or even most of them, but in this day and age not to be using the Internet if you're a Realtor is negligent.
How do they get clients? Mostly they focus all their efforts on chasing listings, because listings on the Internet are actually their primary marketing and advertising tool. If they have a property listed, another buyer's agent can sell it, and they still get paid, even though they had no marketing system to reach buyers. If a buyer calls them off the listing, they might get lucky and double dip, meaning they represent the seller and the buyer and double their commission. What a gigantic difference between my business model and theirs. I love my model, but I despise their model. If you want to know more about all the thinking and secrets the industry doesn't want you to know, I recommend my book, "The Seven Myths of Selling Your Home."
Enough about search engine optimization and content-rich resources.
Subscriptions, Alert Notifications, and Bookmarking: This blog now gives you the ability to create your own private login so you can permanently bookmark articles so you can easily find them in the months ahead. When you come back to find an article you want to review again or send to someone else, you simply open up your account and you'll have the ability to open up a page with all your bookmarked articles. It's way better than trying to bookmark them on your own browser. We all know from the school of hard knocks how messy and chaotic that eventually gets. You also have the option to "Allow" notifications of new articles when I publish them, and you also can subscribe to my newsletter, which is a digital newsletter I publish randomly when I feel I have something of importance that you may want to know.
The Option to Hire A True Real Estate Professional: When you engage with me on any of these resources, you have the opportunity to retain me and work with me. I honestly don't know of anyone who will work for you more diligently and more faithfully, who has the knowledge and experience you would expect from a top broker, and who is easier to work with because of a positive healthy state of mind. Frankly, I love my clients, and believe me, they all seem to enjoy working with me, too. I have very positive relationships with all my clients, and that's not something all brokers can honestly say.
Conclusion: Play on this new real estate blog. Browse. Instruct your mouse to explore all over the site. Dig deep and wide, and have fun, because it may have taken years to build and optimize, but it's all here for one purpose–to help you, my clients.
Last Updated on August 11, 2022 by Chuck Marunde