You will want to order a home inspection as part of the due diligence you are doing when you buy a home.  Tyler Conkle is a local Home Inspector who contributed this article on LP Siding.  Suppose your home inspector has informed you that the exterior siding of the home has deteriorating LP.  What does that mean and what should you do next?
Your Sequim Home Inspection
The home inspection report should have some accompanying photos and may read something similar to this:
The siding on the inspected building(s) is a composite material and shows evidence of damage that is consistent with the deterioration and failure of these types of products. Swelling of the leading edges, warping, sunken nail heads, peeling caulking, soft spots, fungal growth and wood rot damage.

The siding on the entire home is in need of a minimum of restorative painting, caulking maintenance. 

The deterioration due to product defects can be reduced and likely arrested by extensive preparation (wire brushing the leading edges), caulking, proper priming (elastomeric primers) and painting (mildew treatment added). 

Have the siding evaluated by a licensed painting contractor familiar with composite siding issues for a full cost estimate. 

The limits of a physical/visual home inspection may necessitate the removal of a localized section of siding in order determine if / or the extent of any moisture intrusion that may have occurred.  The conditions reported are the result of a careful visual inspection. There is a possibility other damage or conditions conducive to may be present that are not readily identifiable at visual means at the time of inspection. This home inspection report is not a warranty or guarantee that all damage or conducive conditions associated with the composition siding have been identified.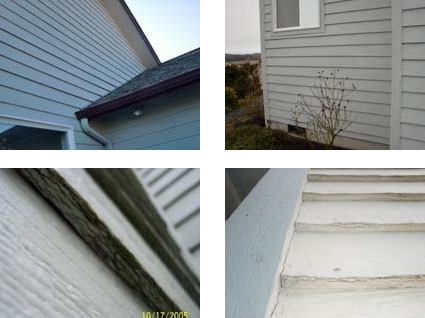 Some manufacturers specifications state that if the leading edges of the lap siding had expanded to 5/8 of an inch or greater, failure occurred in that area. There may not be extensive damage or obvious evidence of deterioration that would result in removing and replacing all or even portions of the siding, but that is why you hired a qualified inspector.  The majority of the siding may still be functional, and yet in need of extensive maintenance in order to arrest the deterioration and preserve the integrity of the materials.

Home Inspection and LP Siding
Louisiana Pacific exterior siding, known as" LP Inner Seal," is one of several OSB siding systems that was manufactured and installed on homes from the mid-1980's through 1996.  One reason this type siding was susceptible to failure was faulty installation, lack of proper flashings, and improper caulking and painting, resulting in excessive moisture and humidity to penetrate the edges.
The second cause of failure was suspected product defect resulting in delaminating leading edges of the lap siding as seen in the photographs above and in extreme cases black mold, fungal growth and complete failure of the siding.
There are two options available to homeowners who have this siding on their home: 
In extreme cases the siding on the entire home will need to be replaced. However; the most common incidents result in only the areas of severely damaged siding being removed and replaced.  Boards that have edges are swollen larger than 5/8″, and / or have fungus growing out of the end grain and leading edges, or are rotten enough to poke a hole when probed should be replaced.
In less severe situations the existing siding can be stabilized and preserved and the process of stabilization consists of, but may not be limited, to the following:
Clean the siding to remove and kill of the mold, mildew and fungal growth on the siding.

Wiring brushing all of the exposed leading edges to remove the flaking paint and residue.  

A substantial re-caulk of the siding, using a high quality elastomeric caulking, at all cut edges, corners, windows, doors and penetrations to insure no more moisture intrusion.  

Then apply two coats of an elastomeric primer on all of the "drip edge", leading edges, and back brush if the primer has been sprayed on.  

From this point all of the siding is primed and the house repainted with a quality 100% acrylic exterior house paint with mildew treatment added to the paint. 

Back brushing between coats of paint and after the final coat increases adhesion and provides a more lasting weather resistant finish.
This process will help assure that the "composition" siding is stabilized, the deterioration arrested and future degradation greatly reduced. This is a far more cost effective way to preserve your investment that a complete re-side of the home.
A Home Inspection Report is Good Insurance
A good home inspection report will identify potential problems and help you know what needs to be done.
Last Updated on September 28, 2011 by Chuck Marunde