The Sequim real estate market and the Port Angeles real estate market are hurting badly.   The real estate market and the American economy have taken some pretty good hits for quite a while now, but these things are cyclical and happen all the time in our history.   The big news here is that this slowdown has taken on new meaning as time drags on without recovery.   Having a headache for a few hours or even a couple of days is a pain, but when the headache doesn't go away for months, it brings entirely new health implications that are deep and wide.
That's what time without recovery is doing to us now for homes and land sales in Sequim and Port Angeles.   There's no doubt that sales and inventory outside our little peninsula effects our market and our home sellers right here.
From a national perspective, here is look at existing homes sales and inventory:
[Click on image to enlarge]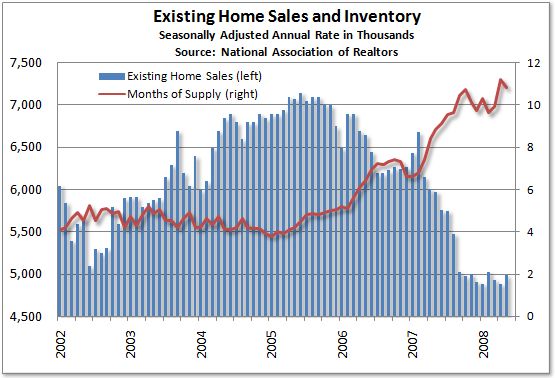 "The national median existing-home price fell to $208,600 in May, down 6.3 percent from a year ago when the median was $222,700. Home prices have fallen most in the West, down 16.0 percent over the last year, followed by a 4.3 percent decline in the Northeast. . . . An astonishing one-third of all existing homes sold last month were reportedly either foreclosure sales or short-sales and this figure likely understates the actual percentage of distressed home sales as some of these properties do not involve realtors and hence, are not included in the monthly data from the realtors' trade group."   [Quotes and charts by Tim Iacono, View his full article here.]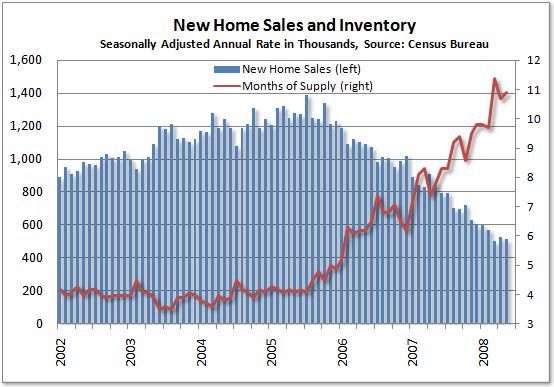 "On a year-over-year basis, sales are currently down a whopping 40.3 percent and, from the peak in July of 2005, sales volume has declined 64 percent. . . . The most important piece of information in this report is that sales continue to decline faster than inventory, resulting in an uptick in the "months of supply" statistic, from 10.7 in April to 10.9 months in May. Until there is a significant reduction in inventory relative to sales volume, look for prices to continue to fall."
While the Sequim and Port Angeles' real estate markets have fared better than most, the cumulative effects of the declining real estate markets all around us are taking a heavy toll on home sellers here.   It is more critical than ever that a home seller have a very effective marketing plan in order to connect with the smaller number of qualified buyers out there, and that requires much more than guess work or inexperience on the part of a Realtor.   Now is not the time for trial and error in selling a home. For FSBO's in this market, they are up against greater challenges than FSBO's have ever faced, including increased inventory, expensive advertising techniques that are not producing results, the requirement that technology and the Internet play a major role in connecting with potential buyers, and a level of competition never seen before from existing FSBO's and existing listed homes with Realtors.   The MLS and the for-sale-by-owner websites are a dime a dozen, and they are not the panacea many hoped they would be.
I strongly recommend careful planning when selling a home in this market, and I strongly urge home sellers to retain the services of only the most experienced Realtor.   Be careful.   It's dangerous out there.
Courtesy Chuck Marunde, J.D. and Sequim & Port Angeles Homes, LLC
Last Updated on September 1, 2019 by Chuck Marunde