Selling your own home in Sequim or in Port Angeles requires marketing knowledge, and the best marketers have been through the school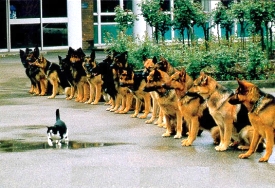 of hard knocks, so they've learned some valuable lessons in selling a home. It takes courage to sell your home, especially in these challenging times, and there is risk that you will fail. Marketing is risky, because there are things that work well, things that don't work at all, and some things that work a little. A FSBO might be willing to take on the risk to save a commission. This series is intended to provide guidance to help you avoid the major traps for the unwary. Don't be like the cat in this photograph, which is taking incredible risk when it doesn't have to. Risk should only be taken when it is balanced with the reward, and one should never take unnecessary risk.
In this article, Part 2 of our series on How to Advertise a Home for Sale, we talk about:
Traditional Advertising – What Works and What Doesn't Work.
Traditional newspaper advertising as a means to sell real estate has been dramatically losing its effectiveness over the past decade. This is common knowledge among top producing salesman in busy metropolitan areas, and many successful Realtors have testified that they have substantially reduced or even stopped using the newspapers to sell their listings. What's interesting to me is that newspaper advertising is not only one of the least effective ways to sell real estate today, it is also one of the most expensive venues to advertise in.
Just last week I ran five large ads with photographs of five of my listings, and five "word only" ads in the classifieds. With ten ads running on the number one day of the week, Sunday, how many phone calls or how many emails did I get? After over $500 in advertising costs, I received . . . no calls at all. Zero. None. There are other variables to consider here, too, but my point is that with good photos of pretty good properties, and with good scripts, all this print advertising produced nada. So much for the power and effectiveness of newspaper advertising.
Why did I run these ads? As an experiment, to broadcast my company name to the public and to other Realtors. I also did it to encourage my clients by showing that amidst all of the other things I am doing on the Internet, I also do some traditional advertising.
If such advertising is ineffective today, why do so many brokers do it? There are two reasons in my opinion. First, agents do it to show their clients they are doing something. This is big, and if the agents don't have a lot going on in the marketing department, what else is there? Run an ad in the newspaper. Second, it is also probable that many agents do not know that putting their listings in the newspaper is a feeble and ineffective way to sell real estate.
Real estate magazines are also fairly ineffective. Sorry, but it's true. Brokers run half page or full page ads, and often get no calls at all from those ads, and this kind of advertising is very expensive.
Consider an area like Sequim or Port Angeles, where such a large percentage of our buyers come from outside our area. These folks are not even reading our Sunday newspaper. They're not subscribing to the local real estate sales magazines, and those magazines are not on the shelf at their local Safeway in Santa Barbara.
All of this does not mean you should do no print media advertising. It just means to chose carefully, and spend your money where it will get the biggest bang for the buck. A simple classified is good, and if you pick one day per week, pick Sunday. If you're going to run the ad two days each week, pick Wednesday and Sunday. These are the two most effective days for advertising real estate in local papers. Don't waste money running your ad six days a week. Waste of money.
Don't waste money in expensive real estate magazines or niche magazines. Those ads won't pull buyers for you, but they will drain your bank account. If you want to, you can run a fairly cheap ad in a little regional classified, such as the Little Nickel or the Nickel Nick.
Where should your advertise? On the Internet. Next time: Advertising Real Estate For Sale on the Internet.
Read How to Advertise a Home For Sale – Part 1
Courtesy of Sequim & Port Angeles Real Estate, LLC.
Last Updated on July 5, 2008 by Chuck Marunde