It's hard to find homes with acreage in the Sequim area. If you want 5 acres or more, even if price is irrelevant (and it never is), it will still be hard to find a home with 5 or more acres. I recently sold this home to buyers who were looking at homes with acreage, but couldn't find the perfect property until we found this one. This one is between Sequim and Port Angeles in the hills to the south. This was a rare find.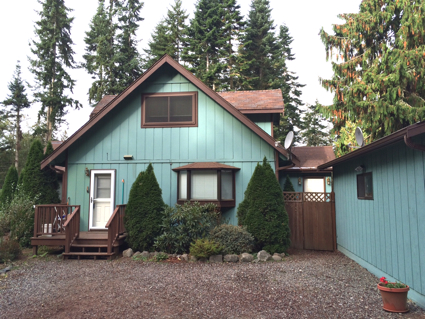 Homes With Acreage
Homes with acreage, if priced decently, tend to sell fairly soon after they are put on the market. The listing period or DOM (days on market) will normally increase as the price gets higher, but that's because as price gets higher, there are fewer buyers. For example, a home on five acres that is priced under $250,000, like the one in this photo, will sell within six months and often within weeks of going on the market. But a home on 20 acres that is priced above $400,000 is more likely to be on the market for 6 months to a year, or even a little longer.
Homes With Acreage Often Remote
The trade-off for homes with acreage is being further from town. Remote is a relative term of course. One person thinks living 13 miles from downtown Sequim is "way out in the boonies," while another person thinks the privacy and quiet is absolutely perfect.
You can have fun searching all the Sequim homes with acreage (and Port Angeles) by using the "Basic" search for 4 or more acres. I used 4 rather than 5 because some properties are slightly under 5 acres. Here's a link for homes on 4 or more acres priced from $200,000 to $440,000:  Sequim homes with acreage.
Last Updated on September 22, 2019 by Chuck Marunde