Listing photos are what you see first when you're looking at homes online. You see a thumbnail photo on the summary page, and then you can enlarge that and look at more listing photos. This is the most important sales presentation of a home online, because when it comes to looking at homes, we're all visual. If you've spent time looking at listing photos online, you already know there are many terrible photos out there, but can listing photos be too good? In other words, can a professional photographer make a home look better than it really is?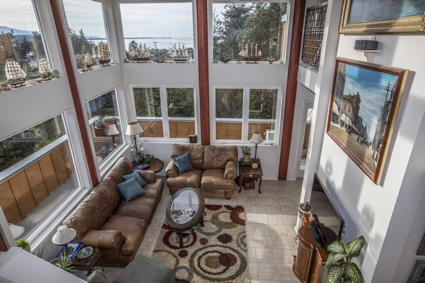 Listing Photos Too Good?
How can listing photos be too good? That's easy. A person can photoshop a photo to make it look better than it really is. But there's more. A special wide angle lense that makes a small room look very large misrepresents the true character of a room. I show a lot of homes, and buyers tell me all the time that homes often look better than the lousy listing photos in the MLS, but they also tell me that some homes looked far better and more impressive in the doctored photos than they do in person. So it is true that listing photos can be too good if they do not accurately represent a home.
Listing Photos and Reality
This photo above is an example of an exceptional photograph that uses a special lense and a professional camera, but does not distort or misrepresent the true dimensions and appearance of this gorgeous living room. Look at this larger image of this Port Townsend Home. Notice that it is 100% accurate in every way. The vantage point or perspective of this photo shows a tremendous amount of information. You see the full dimensions of the living room, from wall to wall, and from the floor nearly to the ceiling. You can see incredible details, like the speaker on the wall between two beautiful paintings, the type of floor tile, a deck outside, and you can see there is an upstairs hallway. You also see the water view through the windows. If you viewed this home and stood in this exact location on the stairs, you would say that the listing photos accurately represent this home. And that's what buyers want–an honest representation. You can see the rest of the photos of this home at Listing Photos.
The key for buyers is simple. When you as a buyer come to the Sequim area (and Port Townsend to Port Angeles) to look at homes, you expect that when you actually walk through a home, you will not find yourself saying, "this home does not look at all like the impression I got from the listing photos online."
I should add a note here. Many of my buyers will ask me about homes before they come. I can help refine your online search by giving you feedback on what a home really looks like in person before you arrive. That's just one of the services I offer my clients. Email me at ChuckMarunde@gmail.com the link to the home you want to know more about, and I'll be glad to answer your questions. You can always call, too, at 360-775-5424. I'll be delighted to help you connect reality with online listing photos.
Last Updated on September 7, 2019 by Chuck Marunde