This articles answers the question, "How to make an offer on a home?" on the specific issue of price.  There are several scenarios that can play out, so I'll address the three most common scenarios, and this will help you plan your strategy even before you make an offer.
How to Make an Offer on a Home First
Scenario 1 on How to Make an Offer on a Home:  You have your buyer's agent write an offer on a Sequim home.  Your buyer's agent will help you put together the right documents and addendums for you.  There are about 100 documents in the State of Washington for buying and selling real estate, so you've got to get it right.  Once you have the right documents, you'll submit the offer.  Here's the normal procedure.  You give the seller X days to accept, reject, or counter your offer.  Once you have the offer back, you respond appropriately.  As I've written in other articles, negotiating effectively takes more than a decade of full time experience from the school of hard knocks.  Trust me, you do not want an inexperienced agent negotiating a half million dollar transaction with your money.  This is not a garage sale. Barring any unusual circumstances, once you've reached mutual acceptance on the price and terms, the due diligence and inspection period kicks in.  [For more on handling the inspections and completing your due diligence prior to closing, see Home Inspections.]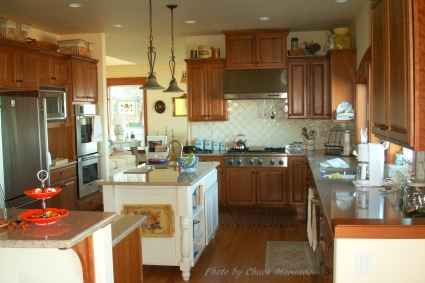 How to Make an Offer on a Home with Competition
Scenario 2 on How to Make an Offer on a Home:  How to make make an offer on a home is not a small question.  But sometimes events require a different strategy.  Suppose that you are not the only one making an offer on a home?  Believe it or not, a home can be on the market for months with no activity, and suddenly (even in a recession) there will be two or three offers on the same day or within a couple of days.  In an area like Sequim where retirees tend to think similarly (and want similar floor plans), this happens far more often than you might think at the peak of the buying season.  In fact, it just happened this week, so this is no exaggeration.  In this scenario, the competition among buyers changes the negotiating strategy.  How the strategy changes will depend on a number of specific variables, but beware that your buyer's agent needs to know exactly what to do and when to do it.  This is not a time for your agent to cut his teeth with your money and your dream home.  [You can imagine why dual agency is such a conflict of interest.]

Scenario 3 on How to Make an Offer on a Home:  How to make an offer on a home depends on another important variable–who the seller is.  If the seller is an individual, there's a standard practice and negotiating strategy that is most effective for that particular home and it's history.  If the seller is a bank and the listing price requires a short sale, there is another standard practice and procedure and another negotiating strategy.  If the seller is a bank and the property was foreclosed, you're making an offer on an REO and the documentation and the negotiating strategy are different than either of the first two.
How to Make an Offer on a Home in Sequim
There is a lot to effectively searching for and finding the ideal retirement home.  You know this already from the many hours you've been spending online looking for your ideal Sequim home.  Once you've filtered that list and viewed many homes and narrowed that list down to "the one," the strategy you implement to make an offer and negotiate the best possible price and terms is no small matter.  You get one opportunity to do this right when you move to Sequim.  Make sure that you and your agent work together to thoroughly answer the questions about how to make an offer on a home.
Last Updated on March 24, 2012 by Chuck Marunde