A modern kitchen is high on the list for most buyers today. Architecture has been evolving, and most buyers live in a generation that considers the kitchen the centerpiece of a home now. To this generation a modern kitchen is more than just new appliances and a nice countertop. It is also about the kitchen floor plan, the total countertop space as well as the durability of the countertop, the size and functionality of the kitchen island, the lighting, efficient cabinet storage, and how the kitchen integrates with the living room and eating space.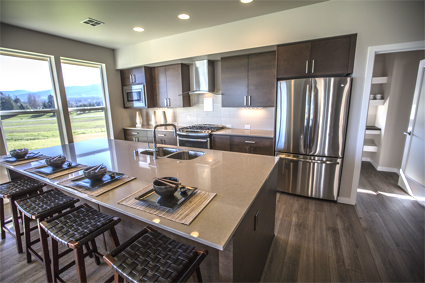 Buyers Want a Modern Kitchen
This beautiful kitchen belongs to a home I just sold, and it has everything a buyer wants today. Is it not absolutely gorgeous? It was built with high quality materials, cabinets that wrap around the huge island, a propane stove top for the serious chef, the latest in refrigerator technology, and everything is built in an ideal location so that several people can work in the kitchen without getting in each other's way. The large pantry with natural light provides more than enough storage space. The open floor plan with the dining room and the living room creates a friendly environment where conversations are easily carried on, and where entertaining friends is a pleasure.
Modern Kitchen
Most modern kitchens are found in homes built since 2005, but it is possible to buy an older home with a modern kitchen, although that usually means a major upgrade. Here's a fun browse through our local MLS at homes that most of us would consider to have a modern kitchen. You can open the photos and check out the kitchens at Modern Kitchen.
Last Updated on September 8, 2019 by Chuck Marunde