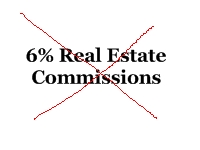 The 6% real estate commission is struggling to survive, mostly because the entire real estate business is in a tidal wave of change.   A tsunami, an earthquake, or any kind of major natural disaster changes things, and for some people those changes are forever.   The real estate market is in an upheaval never before experienced, and as we get through it and get beyond it, things will have changed, and real estate brokerage and real estate commissions will be one of those changes.
Will the 6% real estate commission disappear?   Not likely.   But new brokerage models have been emerging, and how agents work with sellers and buyers is evolving.   More buyers are recognizing that dual agency can cost them a lot of money, and they are seeking out exclusive buyer's agents who can represent only their interests as buyers.   Some agents are focusing on just listing homes for sale, and their business model is different than the agent who represents buyers.   There are substantially different responsibilities and tasks that must be accomplished by each.
In 2005 in Sequim or Port Angeles anyone with their eyes open during daylight hours could sell real estate.   People walked in or called and said, "I want that one."   It was almost that easy.   No high level of education or knowledge, nor experience were necessary to make money and pop 6% commissions all month long.
But the market has changed.   Consumer needs and preferences are evolving.   Easy money is no longer falling off the edge of the coffee table for agents.   Like many agents, I have a business model that is substantially different than the traditional broker's model.   Many of us have found the old model had way too much overhead and not enough consumer centric focus.   Clients don't care about a huge brick and mortar building with gorgeous dark conference tables and expensive art decorating the walls, but even more importantly, they are not willing to pay for it anymore.
The Internet and the application of advanced technology has contributed to major changes in how real estate is done.   Lower overhead, broader and less expensive advertising options, and niche marketing have brought us to an interesting place in real estate sales.
But the evolution taking place for consumers is not just that they want more for less, as with all consumers in all industries today: consumers also want a higher level of professionalism and experience with their agent.   Gone are the days when any Tom, Dick, and Jane could sell real estate just because they passed the test and got a license.   Clients want more, and they are demanding it.
The 6% commission is not dead, at least not yet.   But consumers are getting smarter, and they are doing more due diligence on the Internet to find the right Realtor.   Good for consumers.   Not so good for some traditional agents.   But for those agents who learn to recognize the signs and adapt, there will be a kindred spirit with the new Internet saavy consumer.   And that is good.
Last Updated on March 28, 2010 by Chuck Marunde