Living in Sequim is the goal of many retirees from around the country. Sequim has been written about in magazines for three decades, and it is on a list called the Top 10 Best Places to Retire in America. The Huffington Post took a nationwide survey and named Sequim the "Number One Place to Grow Old and Be Happy." So why has living in Sequim received so much notoriety? What makes living in Sequim so great?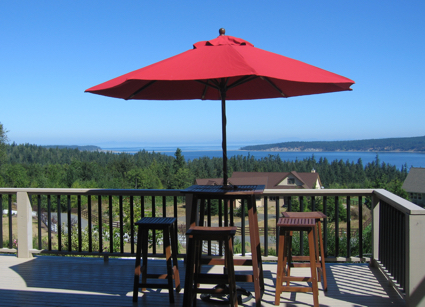 Living in Sequim – The Physical
There are some obvious reasons retirees come to Sequim, such as the famous Sequim Blue Hole, aka the Sequim Rain Shadow. Sequim really does get 1/3rd the rainfall of Seattle. There is the incredible climate with mild temperatures without the hot and cold extremes of other parts of the country. There are old growth forests and lakes and rivers. There is hiking, biking, sightseeing, fishing, sailing, and wildlife that delights the soul. But Sequim also has the latest and best stores, like Home Depot and Costco, plus family owned organic farms. Sequim is clearly a healthy place to live for all these reasons, but there is a deeper reason we ought to recognize, too.
Living in Sequim – The Mystical
When you reach retirement age, whether you are in your 50s or 60s, you've come through some of life's greatest challenges. You've seen some of the best of times and the worst of times. Some have experienced the loss of a child or a spouse, an experience that changes you forever. Many people don't realize it, but in some cases, divorce is as painful as the death of a loved one. Some have also experienced major financial loss. Losing a career can be another devastating life experience. I've learned that life does not go according to plan, and that's not the exception but the rule. In any of these life challenges it takes time for the heart to heal, doesn't it?
I believe that one of the reasons living in Sequim is so good is because it is also a time of maturity and living with peace and contentment for so many retirees who have been through both good and bad times, and now they know what it is to live. They are mature emotionally, psychologically, and spiritually, and all the pieces to the puzzle of their lives seem to fit together so nicely in Sequim. They have found balance in their lives, and they know what they want and need, and they no longer are striving to find happiness somewhere on the horizon. They have found it in themselves, and living in Sequim is just the frosting on the cake, a place that is nearly perfect in every other way.
Among the vast majority of retirees living in Sequim, there is a deep sense of contentment and a feeling that they really have found home. That's how I feel. That's how so many others living in Sequim feel, too. It's probably a cliche, but on many days I still love saying, "Another day in Paradise."
Last Updated on September 8, 2019 by Chuck Marunde