HUD closing requirements are a nightmare scenario for buyers. If you think buying real estate from a normal human being can be challenging, wait until you try to buy a home from HUD through their online bidding process. And if you think you've seen voluminous paperwork requirements, you haven't seen anything until you bid on a HUD foreclosure and complete the many forms they require after the bidding process.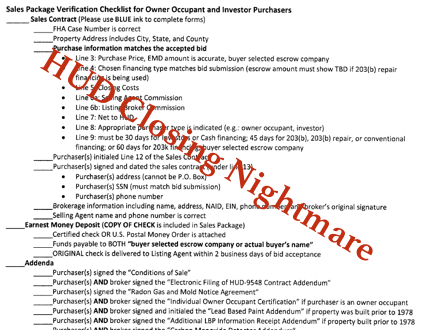 HUD Closing Requirements
I represented buyers bidding on a HUD foreclosure, and we had to go through the process of downloading instructions that take hours to figure out, complete a very complicated offering package with clauses that would make Vladimir Putin pause, and that required signatures not just from the buyers but also from their Realtor and the escrow company closing the transaction. You would think you are applying for a top security clearance or a billion dollar loan, because everyone has to provide multiple identifications and documentary proof ad infinitum. HUD uses real estate terminology wrong, and they required information that is absolutely unnecessary. Their contracts are a maze of misused contract clauses. How do I know these things? I practiced real estate law for 20 years and have been involved in real estate transactions going back 37 years. Essentially, what we have is a lack of adult supervision at HUD.
HUD Closing Requirements Nightmare
Would you like a peek at their initial instructions, and this three page list of single spaced instructions is only the tip of the iceberg. The online bidding and the contract package and required documents are as much as 10 times this instruction sheet. My buyers and I will get through this transaction, but if I hadn't been a real estate attorney, I don't know how we would have done it. 
If you are thinking about buying a HUD foreclosure, I strongly urge you to read this HUD Closing Requirements list. And then have a drink. If you don't drink, you'd better have two. I recommend you think long and hard before trying to buy a HUD foreclosure. A government mess of major proportions: HUD Closing Requirements.
Last Updated on September 8, 2019 by Chuck Marunde