Have you wondered what it would be like living in Sequim? It's wonderful, and trying to prove that in 456 words is nearly impossible, but I'll try. Sequim has been written about in many retirement and travel magazines over the past three decades as one of the ideal retirement havens in the U.S. It has been chosen one of the 10 best places to retire, and most recently in 2014 a nationwide survey gave Sequim the No. 1 slot to the question, "Where is the best place to retire and grow old and happy?" [The Huffington Post]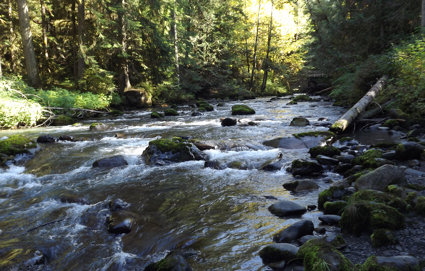 Living in Sequim – Sequim Weather
Why is living in Sequim said to be so wonderful by so many retirees in Sequim and around the country? First, the climate is one of the best and most pleasant climates. Year round weather patterns are some of the best in the entire country. Second, the Sequim Blue Hole is real, and it only rains 16 inches a year, which is 1/3 the rainfall in Seattle, only 2.5 hours away. The rainfall is the same in Sequim as it is in Los Angeles, but our weather does not get the extremes of hot or cold from Alaska to Texas. Try 60's and 70's during the summer and typically the 40's and 50's in the winter. We do get some freezing temperatures early in the morning on the coldest winter days, but that doesn't last long.
Living in Sequim – The Lifestyle
Third, the lifestyle in Sequim is truly happy. People are amazed at how friendly Sequimites are when the visit. Everybody waves all the time, and everyone is easy to start a conversation with. Fourth, there are so many enjoyable activities in the area, including hobbies and clubs, volunteer organizations, and non-profits. Many retirees have found very satisfying places to serve others, and that brings a deep sense of satisfaction. Fifth, there are more year round recreational activities than almost anywhere in the country, including hiking in the old growth forests in the mountains, kayaking in rivers and in bays, fishing, hunting, bicycling on the Discovery Trail, jogging on the thousands of miles of trails, walking dogs in many of our parks, boating, sailing, motorcycling, horse back riding, cross country skiing in the mountains nearby, and much more. Sixth, we have a quiet little community with a Costco, Home Depot, Safeway, and numerous family owned organic farm stores. Seventh, living in Sequim means living in one of the lowest crime rates in the country. That brings a lot of peace and security to retirees.
No wonder so many retirees are finding Sequim and enjoying the best years of their lives living in Sequim. Come and visit Sequim and find out yourself why living in Sequim is so darn good.
Last Updated on September 22, 2019 by Chuck Marunde