Mortgage rates have hit historical all-time lows during this recession, but mortgage rates appear to be headed upward.  In late 2012 and in 2013 mortgage rates dipped to record lows below 3.5% as you can see on the chart below.  Today the 30 year mortgage rate is 4.31%.  Interest rates appear to be headed back up.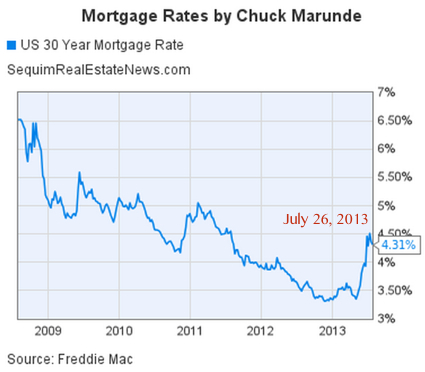 Mortgage Rates Headed Up?
Mortgage rates do not typically increase or decrease in a straight line.  Technical charting usually looks like this chart above on mortgage rates, and one can logically say that while interest rates are probably headed upward after a long recession of the lowest rates in history, interest rates will not increase on a steady line.  They will slowly increase with dips retracing the increases periodically.
Mortgage Rates – Recommendation
I am advising my buyers to lock in an interest rate as soon as they can once they have mutual acceptance on a purchase. I've already had some clients who had interest rates go up on them while their transaction was pending.  If mortgage rates go up one percent, that can increase your 30-year mortgage payment by a couple of hundreds dollars or more, depending on the balance of your loan.
Mortgage Rates Since 1971
I put together a chart of mortgage rates going back to 1971, and it's worth looking at.  Remember 16.7% in 1981?  See Historical Mortgage Interest Rates.
Last Updated on September 20, 2019 by Chuck Marunde