How many new homes are being built so far in 2008? Has the slowing real estate market and the troubled economy hurt the building industry? No doubt it has, but the picture is brighter than I might have thought just by reading headlines and listening to the talking heads.
I've tracked building permits issued by Clallam County from 2005 through September of 2008, and here are the results: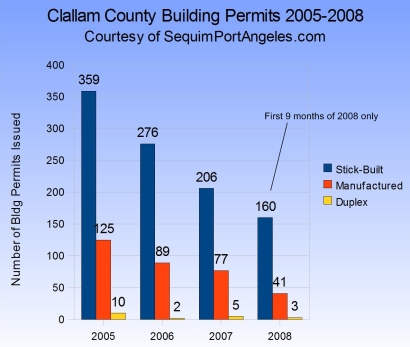 I've included data for single family stick-built homes, manufactured homes, and duplexes.   We see again proof that 2005 was a banner year in real estate with 359 permits issued for homes.   Since then we have a steady decline, and for the first nine months of this year, we have 160 building permits.   Annualizing this number would give us a rough equivalent to the number issued last year, but I suspect that the remainder of this year will see fewer permits with the year ending at about 190 building permits.
This is good news.   You would have thought no one was planning to build a home, but in fact many are, an average of about 17 each month.   That's not a big number, but in little Clallam County, that's a positive number in the worst real estate market in decades.
I've included data for manufactured homes to show they are still a factor for many retired couples moving here.   I also included duplexes only to show that we have virtually no duplex market here at all.   That may answer a few questions for investors who email me asking about duplexes.
[Source of Data:   Olympic Listing Service]
Last Updated on October 7, 2008 by Chuck Marunde