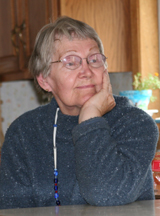 It's obvious to most Sequim and Port Angeles homeowners who want to sell their homes that we are in a buyer's market. Buyer's are in the driver's seat on price and terms, and its been that way for a period of many months now. In my opinion, now is not a good time to list your home for sale. (I'm a Realtor, too, so you would expect me to say the opposite.) For those who are desperate and have no choice, this counsel is irrelevant. You must list and do all you can to sell. That may mean you have to take whatever you can get, and that could be tens of thousands less than you hoped (or $200,000 less in one case I'm thinking of).
For others who are not in foreclosure or who do not have other exigent circumstances that are forcing them to sell right now, I recommend waiting until next spring, April 1st. Buyers are few and far between, and the deals they are cutting with those who are desperate to sell is almost embarrassing. Sellers who are forced to sell at low prices in the worst market we have ever seen in Sequim and Port Angeles and in the worst national real estate market we have seen in decades might just as well volunteer to get poked in the eye with the proverbial sharp stick.
Listing your home for sale right now in December in the slowest market with so few buyers (who are now very powerful) in the slowest time of year, is a bit like wading barefoot across a shallow river in Brazil at the precise time Piranhas are in a feeding frenzy.   Why do it?   You would wait until the Piranhas swim downstream.   My suggestion on selling your home in Sequim or Port Angeles is to wait until next spring.
As most homeowners know only too well, traditional real estate brokerage and traditional newspaper and magazine advertising has not been working of late.   Hmmm.   Wonder why?   Everything is changing.   The old rules are fading and new rules for buyers and marketing and the Internet are taking their place.   If you are serious about selling your home, and you want to sit down and talk about what works and what doesn't work, and how you can move forward with your plans to sell, email me or call me.   There are creative ways to market your home for sale, and there is much more to pricing and negotiating than meets the eye.
Chuck Marunde, J.D.
chuckmarunde@gmail.com
Last Updated on December 11, 2008 by Chuck Marunde