Want to help Sequim and Port Angeles grow in the right direction? Ever wonder what you can do to make a valuable contribution toward that end? Are you passionate about some issues but not others? Do you want to make your opinion count with hundreds or thousands of other Sequim and Port Angeles residents?
Complete this survey and we'll enter you in our monthly
$100 cash giveaway!
(Sequim & Port Angeles Residents Only, see survey for details)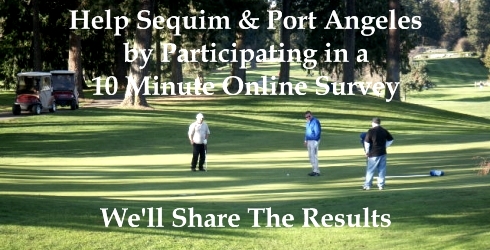 This survey seeks insight into what drew you to move here, what you love most about living here, and what you would change. You'll have simple multiple choice and a couple of essay questions you can choose to answer or not. Tell the truth about how you feel, and identify yourself or remain anonymous. It's up to you.
Now you can help by taking this easy online survey, and the results will be made available to you and shared with decision makers who will hear your voice. The survey consists of 28 easy questions and you can probably take it in 5 to 10 minutes.
Take the Sequim and Port Angeles Community Survey
Results can be emailed to you and will be subsequently compiled here for analysis. This is another community service from your friends right here at Sequim and Port Angeles News Online.
Last Updated on August 17, 2010 by Chuck Marunde