This Sequim Bed and Breakfast is between Sequim and Port Angeles with an unbelievable water view for guests.  Whether you're looking for a Sequim B&B or a Port Angeles B&B with a stunning panoramic water view and mountain view, you will not go wrong with this B&B.
Sequim Bed and Breakfast
George Washington Inn is a Sequim and Port Angeles Bed and Breakfast that sits majestically along the Strait of Juan de Fuca in a private pastoral setting at the foot of the snow-capped Olympic Mountains. Known affectionately as "Mount Vernon West" this B&B inn provides luxurious lodging, just minutes from both Sequim and Port Angeles. From Seattle, Vancouver or Victoria, enjoy a scenic drive or ferry ride to this romantic getaway on the Olympic Peninsula of Washington State. Savor this relaxing retreat while enhancing your senses in fields of lavender, surrounded by a panorama of sweeping mountain and ocean views. This description from their website was so sweet, I couldn't think of a better way to say it.
Sequim Bed and Breakfast & Stunning Water View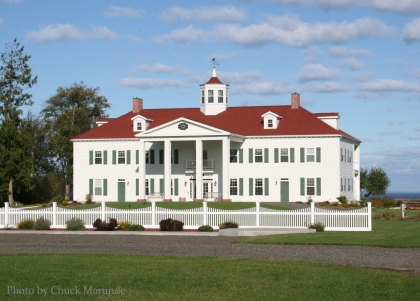 You've got to see the gorgeous and classy interior of this B&B.   When I first saw it, I oohed and awed for quite a while.   You can go directly to their website and learn more, see some more photos, and book a reservation if you are so inclined.   I recommend it.
The Most Elegant Sequim Bed and Breakfast
I strongly recommend this Sequim Bed and Breadfast or Port Angeles Bed and Breakfast (midway), the George Washington Inn.
Last Updated on July 27, 2012 by Chuck Marunde