Port Angeles News Bulletin!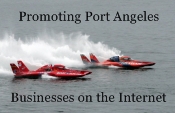 Port Angeles business owners have a whole new forum and an incredible free service offered on PortAngelesVision.com.   Following is the full article reprinted with permission.
This blog [PortAngelesVision.com] is devoted to the vision and future of Port Angeles and our mutual success as business owners. We will start (or continue) a dialogue on this subject, brainstorm here, argue (diplomatically), and share information.
But there is much more to the benefits to Port Angeles business owners, and today we reveal one of those benefits to participation. When you as a Port Angeles business owner post three (3) comments on this site, you will be entitled to a very nice profile of your business and what you offer customers with a photograph of your business or products. You will also get a link back to your own website if you have one, and your location and contact information. But . . .
This is much more than just a simple advertisement of your business. This is a nice description of your business with good graphics and good script describing your business and your product so people will want to do business with you.   And this profile is not limited to 10 or 30 words.   If you need several hundred words to describe your business, no problem.   Your profile will also be optimized for the search engines by an expert, so you can be found by people using the Internet. In addition, you will be indexed by category on this blog so people, both local and outside our area, can find you and do business with you.   Right now many of us who do business in Port Angeles don't even know each other. We are missing opportunities to do business with each other right now.   You'll also notice that all of our blog posts have an audio version, so those with a vision impairment will still be able to hear about you.   Our audio is also syndicated as a podcast, which is only the tip of the iceberg on how we promote this site behind the scenes.
By the way, before anyone gets all defensive on me, let me be clear about the cost to you: absolutely nothing. This is a service to local businesses, and what we are doing here is free. I know, I was taught in my college economics course by Dr. Orth that, "There's no such thing as a free lunch." Well, he was wrong. There is such a thing as a free blog that has an honorable goal and offers you something you would have to pay thousands of dollars to get elsewhere.
An expert will help you at no cost to write your profile persuasively, and our tech expert will optimize your business information, also at no cost to you.
So, be sure to come back and when you have a relevant comment, register and post your comment. When you have three comments, email me your basic business profile with your photo, and I'll work with you to perfect it. Then we can always tweak it to get you more traffic. As this site gets more traffic, you will get more exposure. Let's work together to make it happen. Post your thoughts, and email three friends with a link to this site.   The more visitors this site gets, the more exposure your business gets.
To take advantage of this service, go to PortAngelesVision.com.
Last Updated on September 2, 2019 by Chuck Marunde