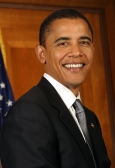 The real estate market and the economy are in tatters.   I was going to write next that this isn't front page news, but it still is.   Every day.   And next week on November 4th America elects its next President and Vice-President.   Who will that be and what will it mean for the real estate market and the economy?
Without expressing my personal preference here, I am quite certain the writing is on the wall and next week we will be hearing the title President Obama.   Not to get all political on you, but let's face it, McCain has run the poorest presidential campaign most of us have seen in our lifetimes.   And to state the obvious, Obama is the darling of the press, although he has less experience than any presidential candidate in U.S. history.   It's going to be a devastating loss to Republicans, and Democrats are about to take full control of the nation's agenda not just for two presidential terms, but for an entire generation.   Mark my words Joe Biden.
We have finally reached the tipping point in America, and conservatism lost.   Despite all the passionate talk by conservatives about how they will continue to fight the good fight, and despite Republican strategist Ed Rollins' claim that "We will be back," the truth is, in my bold opinion, the nation has finally reached the point of no-return, the tipping point, and we will never go back to what we were.
What does all this mean for the real estate market, the stock market, and the economy?   Nothing and everything.   It means nothing, because despite the debate about what will happen to the stock market and the nation's health depending upon who wins, the day after every election it is always business as usual.   The stock market does not care who gets elected, at least on the surface.
On the other hand, who is elected means everything in the long term.   Big and small businesses will adjust accordingly, and there are many variables.   Obama and his policies scare the daylight out of businessmen, and behind the scenes there will be much ado about everything.   The real estate business is in such a state of chaos that it probably doesn't matter what federal policies come down the pike.   It will take a year and a half to two years before there is a semblance of order in the real estate market for sellers.
Meanwhile, it remains a buyer's market, and the election will not change that.
Last Updated on October 27, 2008 by Chuck Marunde