Port Angeles homes and land appeal to so many retirees because of the serene and peaceful country setting on the Olympic Peninsula away from traffic nightmares and high crime rates of the great metropolises   The Port Angeles countryside, the open fields, the grazing cattle, the mountain views, the Strait of Juan de Fuca, and the mild climate all make this an ideal place to live with "quality of lifestyle." I know.   I live and work here and have since 1994.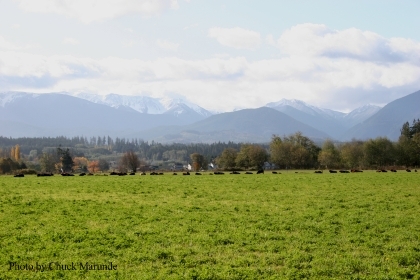 In this photo taken between Port Angeles and Sequim, we are looking to the south to the Olympic Mountains and behind this photographer to the north is the Strait of Juan de Fuca with its stunning panoramic water views.   The Olympic Peninsula has evolved over the past 100 years from an agricultural economy, hence the fields and grazing cattle seen throughout our county.   There's something peaceful about grazing cows, horses, and sheep.
If you're considering retiring to the Port Angeles or Sequim areas and you'd like to see more photos and available homes and land for sale, you can easily search the entire MLS here for Port Angeles Homes and Land or Sequim Homes and Land.
Last Updated on July 27, 2012 by Chuck Marunde