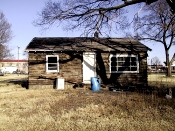 If you've looked at homes for rent recently, you may have seen a couple of disasters out there.   I had the occasion to see what the rental market looks like when I viewed a few homes for rent.   What struck me was how grossly a landlord misrepresented two rentals in his newspaper advertisements.
One home was advertised as a nice home with a large yard.   Realty check:   the home is very old, not what you would think of as nice, and the yard was definitely not large.   It is a tiny city lot.   Another rental is advertised as nice with a fireplace and with three acres (and other glowing adjectives).     It sounded wonderful.   Realty check:   the home is probably not inhabitable, or barely if it is.   I was actually disgusted as I looked inside, and I wondered how anyone would ever want to rent this one.   While I stood there, large logging trucks and other noisy traffic zoomed by no more than 30 or 40 feet from where I stood.
What was amazing is that the landlord boldy asked for very high rental rates.   He could not have paid me enough to live in the second home.   So who rents homes like this?
If you are looking for a rental, do your due diligence, and if you're feeling brave, tell unreasonable landlords   what you really think if they are trying to rent homes that may border on uninhabitable.   Diplomatically.
Additional Resources for Rentals:
http://www.portangelesrentals.com/listings.html
http://www.portangeleslandmark.com/
Last Updated on September 2, 2019 by Chuck Marunde