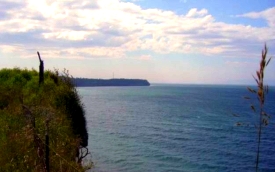 An Arizona couple dreamed of the perfect lot in Port Angeles or Sequim where they could build their retirement home.   For months they would get on the Internet to look at properties, compare prices and views, wondering if they would ever find their lot.
They arrived in Port Angeles to meet with their Realtor and look at the properties they had identified as possibilities.   Their first choice was a nice little development with water views, and it was high bluff property.   Their agent already had experience submitting an offer for another client on a lot in that development, but that deal was killed by an inexperienced seller who put ridiculous conditions in an amendment at the 11th hour.
But there was another problem with that development that turned these new buyers off.   The bluff lots with the best views had a restriction in the CC&R's that prohibited construction of two story homes.   While this idea might seem good at first, because it helps to preserve some small view for lots further away, it actually kills sales of bluff lots.
Anyone who is going to spend over $220,000+ on a lot and another $350,000+ on a home is going to want to be sure they can have what they want, which includes in this case an incredible water view from the first and second floor of their home.
But this story has a good ending.   This weekend the Arizona couple did buy a lot with an incredible water view.   It is bluff property in another development, and the seller did not prohibit two story homes.   The buyers are ecstatic.   They got their dream lot and at a good price after hard negotiating.
So what real estate brokerage did our new Port Angeles residents from Arizona discover on the Internet?   Who was the agent who helped them negotiate a really great price on their lot?   Yes, it is yours truly.   The brokerage is Sequim & Port Angeles Real Estate, LLC, and their agent was Chuck Marunde.
This is a great time to buy real estate here, but it takes experience to draft a good offer and negotiate a good price.   On the selling end, it is critical that sellers (or their agents) have a lot of knowledge of the market and what buyers want.   Sometimes a little knowledge is dangerous.   For buyers and sellers.
Search the local Port Angeles and Sequim MLS of over 1,500 listings free at SequimPortAngeles.com.
Last Updated on July 13, 2008 by Chuck Marunde