I am delighted to announce that the Sequim Real Estate MLS site has just received some powerful improvements.  We already had one of the most efficient free online Sequim real estate sites for buyers who want to search the MLS, but we have improved it again.
Sequim Real Estate MLS Site Improved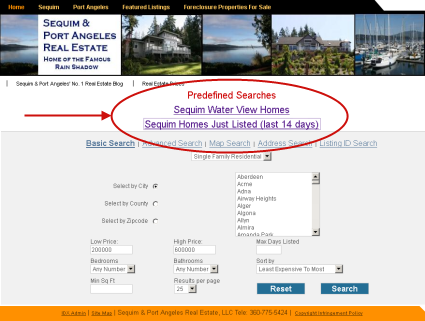 SearchSequimMLS.com is the most powerful Sequim real estate site for searching for homes and land in Clallam County, including Sequim and Port Angeles and surrounding communities.  The site offers free online searching without requiring you to register.  But you can also save your searches if you want to keep your list of filtered homes for viewing when you arrive in Sequim. 
Sequim Real Estate Searches
This MLS site includes 100% of all the MLS listings in the entire county, and neighboring counties.  In fact, you can also search the entire Northwest MLS, which includes listings in most of the state of Washington.  Want to look at Port Townsend listings, or Port Hadlock, Port Lundlow, Seattle, Tacoma or around the Peninsula?  This site includes all those listings and you'll find incredible flexibility and power as you dig deeper into this site.
Sequim Real Estate Just Listed
Here's a new addition to the site.  Whether you are at "Basic Search" or "Advanced Search," you will see two popular Predefined Searches:  Sequim Water View Homes and Sequim Homes Just Listed in the last 14 days.  This means if you want to keep up on new listings, any day you use this feature, you will see all new listings in the last two weeks.  Just click on one of these links, and you'll be taken directly to the search results. 
We are constantly making your job of finding your retirement home in Sequim easier and enjoyable.  Let us know if we can help with your online Sequim real estate search.
Last Updated on December 7, 2012 by Chuck Marunde