Rain in Sequim? Yes. The joke is that it never rains in Sequim, but of course it does. We've had a dry summer, but it has rained generously on and off over the past few weeks, and for that we are grateful. The fields have turned green, and that's a beautiful thing.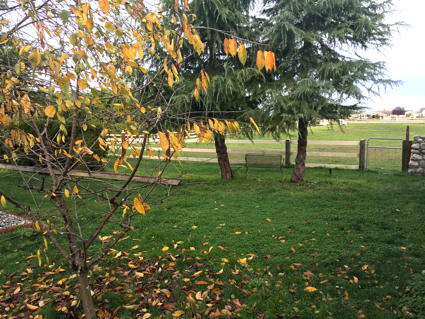 Rain in Sequim
The fall is always gorgeous in Sequim. The leaves have been turning orange and yellow and falling off the trees. The pine trees and the fields are a luscious green. The sunshine, the rain, and the rich soil in the Sequim valley all make for a very healthy environment. This is the time of year when we quit mowing our yards, because the grass stops growing. At the same time, our grass and fields are green throughout the winter, because it stays wet enough and we don't have temperature extremes. It rarely freezes, so our grass stays green all winter. And you don't have to mow it! This is a perfect scenario.
Rain in Sequim and Sequim Weather
The Sequim-Dungeness River has been high for a few days because of the steady rain. Since the river comes out of the Olympic Mountains, where there is always much more rain than in Sequim, the water comes pouring out of the mountains and down the Sequim-Dungeness River and into the Strait of Juan de Fuca. While the river has been at flood level, homes don't get flooded here. It just means the water spreads out in some low areas, but there is no flood damage to properties or homes. 
The rain in Sequim is welcome. I wish we could share some of our rain in Sequim with our friends in California.
Last Updated on November 15, 2015 by Chuck Marunde