The real estate bubble has popped. It should be clear to everyone now that the Washington State real estate market is in decline, although the last to admit this are real estate brokers themselves. They've been selling, selling, and selling throughout the decline, which actually started about 4 months ago.
If you follow my writings and videos and my books, you'll know I've not been bashful about telling all my clients what was going to happen, and I even shared my timeline.  In April of 2021, 15 months ago, I wrote on this blog:
"The market cannot continue on it's current trajectory, and if you are planning to sell, you'd better get that done fast before prices crash. If you are buying, you could wait, unless you need a place to live and can sell high and buy for much less in a market like Sequim. Many of my California buyers are telling me it's less about price now and more about getting a home in a beautiful and safe retirement area like Sequim."
I've been watching houses suddenly sit on the market without any offers, a sharp contrast to the many offers and quick sales only 6 to 12 months ago. Listing prices are being reduced, a first in 3 years. Closings are down, and cancellations of pending deals are way up.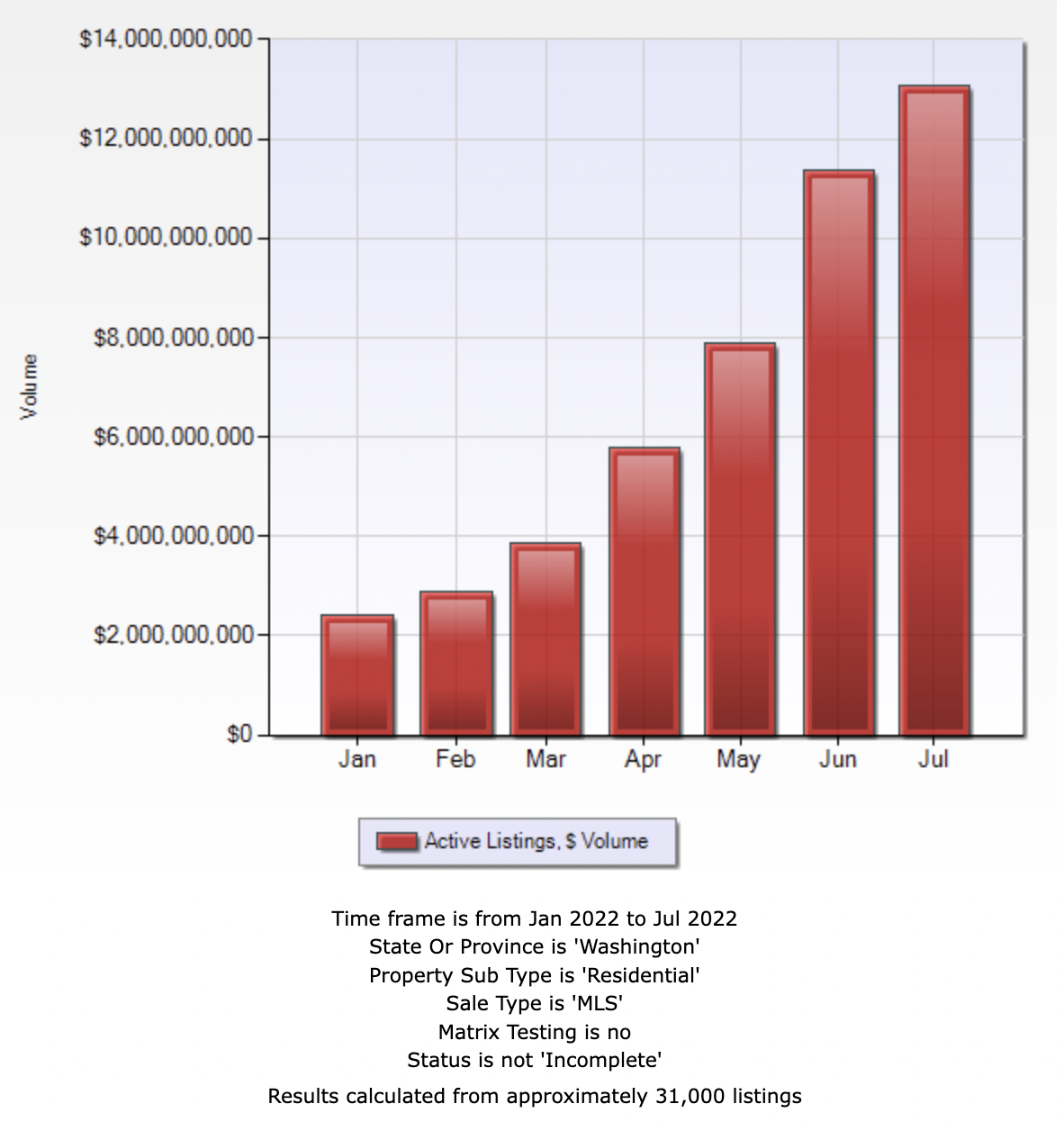 However I examine the market, I come to the same conclusion: The real estate bubble has popped. Frankly, it feels like we've hit a brick wall. A large percentage of retirees tell me they're waiting to see what happens before they make their move.
In this chart above you can see how the number of active listings in total dollar volume has dramatically increased from January through July of this calendar year.
These listings are from a large database of 31,000 Northwest MLS listings in the State of Washington, so we have a good statistical set of data from which we can draw credible conclusions.
What this chart shows us is that the total dollar volume of active listings grew from a little over $2 million to about $13 million from January through July of this calendar year. On a percentage basis, that's a 550% increase.
That's an alarming increase in listings, which we have never seen in a stable market. This kind of massive move is indicative of a market that has turned dramatically and is picking up momentum.  I would argue this is the result of a drastic reduction in buyer demand, which I know is obvious, but it has to be said.
Buyers didn't just decide to pull the throttle back and idle their big Bayliner Cruiser around Sequim Bay until they have time to assess the market: They hit reverse hard, and they're back in San Diego Bay, and they're telling me it might be a while before they come out to play again.
There are over 140 terminated or cancelled pending transactions in the NWMLS as of today, and these are listings that are back on the market because buyers terminated or walked away for various reasons. On December 21, 2021 I published a book on Amazon entitled The Coming Real Estate Crash in 2022: Avoid Buying or Selling at Precisely The Wrong Time.
When I published the book, I was a little nervous that I might not get it published before the real estate bubble popped, but I did, and it was only 2 to 3 months later when the market topped out.  I wrote that I would be glad to be wrong, but I've been through real estate market cycles since the mid-70s in the real estate business, and I was convinced the market was topping out and getting ready for a long painful decline.
We shall see about the decline, but I will say it again. I think a major market crash is looming, although the timing cannot be known. Even so, if someone told you the ship you were on in the middle of the Atlantic was going to spring a link and might sink before land is sighted, would you relax and say, "No worries. I've never experienced something like that, so I don't think it will happen to me."
Yet it seems to me a lot of people are behaving that way. In any event, is there any doubt the real estate bubble popped?
Last Updated on August 3, 2022 by Chuck Marunde