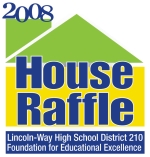 A couple bought a country farm, planning on paying off the new mortgage when they sold their previous home. Unfortunately, their old home didn't sell. They decided to sell their farm, but with the market continuing its slump, the farm would not sell either.
With foreclosure looming, they decided to try something radical–a raffle. "Tickets would go for $100 each, and one lucky person would win the farmhouse. If they could sell enough tickets, they could walk away debt-free."
Others are venturing out on this extraordinary experiment.   "Instead of selling it to one person, we're going to try to sell it 31,500 people," said Tom Walters, . . . referring to the number of $50 tickets he must sell to cover the house's appraised value, a $10,000 second prize and earnings for a charity. Mr. Walters, a mortgage broker, bought the house in 2006 and completed a 4,500-square-foot addition in June. But his career has suffered as a result of the mortgage crisis, he said, and it has lately become "impossible" to borrow on the house. "It's been a perfect storm of bad real estate mojo," he said.
"Home raffles are hardly an easy proposition. Gambling regulations in many states make holding a private raffle for a house or land illegal unless the homeowner has a nonprofit organization as a partner, and the homeowner cannot make more than the appraised value of the house. (Some states, including New York, forbid even nonprofits from raffling off a home.)"
I would not recommend a raffle, although one has to admit, it is creative, and for some it could pull them out of foreclosure. Even if one did this, it would seem laws prohibit making a profit, so that does somewhat negate the whole idea of selling.   As has been said, "Desperate times call for desperate measures."
See the original article at Raffles: Real Estate's Latest Game of Chance
Last Updated on September 25, 2008 by Chuck Marunde