iRealty is pleased to announce a Sequim Real Estate Seminar for homeowners. This will be an important seminar for anyone who wants to sell their home, because the real estate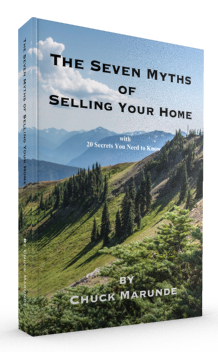 industry has changed dramatically, and what worked years ago to sell a home no longer works today. The seminar is for Sequim homeowners, and attendees who register will receive a free copy of the brand new book, The Seven Myths of Selling Your Home by Chuck Marunde, J.D.
Sequim Real Estate Seminar
Forty years ago I got my real estate license in Fairbanks, Alaska. My broker told me then exactly what to do to advertise a listing. He said, "Put the listing in the Sunday newspaper once every 90 days, hold an open house, and send out a few dozen 'Just Listed' postal cards to neighbors."
Here's what's amazing. Forty years later traditional real estate brokers have not changed their business model. They still have a big bricks-and-mortar building, and they use print newspapers, hold open houses, and farm neighborhoods with mailings. None of these approaches work any more. In fact, they quit working many years ago.
In 2010 in The New World of Marketing for Real Estate Agents I wrote about how the traditional brokerage was no longer valid, and an entirely new way of marketing properties and reaching qualified buyers had arrived. The world changed, but more than 90% of real estate brokers around the country still haven't adapted.
Real Estate Seminar for Sellers
So this real estate seminar is different. In 20 minutes I will demonstrate how consumer preferences have changed, how traditional methods have fallen to the wayside, and how technology and the Internet have created entirely new ways to reach qualified buyers.
Come and find out what Chuck is doing and how he became the number 1 selling agent of single family homes by volume above $200,000 in Clallam County for the past seven years total (1/1/2009 to 1/12/2015). [Source: Olympic Listing Service]
To register for this Sequim real estate seminar call 360-504-2291. Seating is limited, so register early, and bring your spouse.
Last Updated on April 24, 2016 by Chuck Marunde