Road Maintenance Agreements.  Living in Sequim or Port Angeles (Clallam County, Washington) means living in a rural area in real estate developments that often require homeowners to share common driveways, community wells, or easements.  One of the main issues that often results in conflict between homeowners is the lack of a good Road Maintenance Agreement.  When homeowners share a common driveway, and many do here, there are several key issues that should be addressed in a written agreement, and key language that appropriately addresses those key issues must be carefully drafted.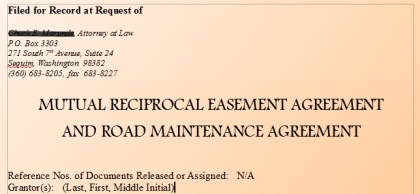 I've seen some do-it-yourself agreements that left out key issues and years later resulted in expensive litigation between homeowners.  Following is some language from an agreement I drafted when I was still practicing law, which will give you an idea of the issues and language that is important.  This is not a full agreement by any means, and I recommend you hire your own real estate attorney if you need a written road maintenance agreement. 
EASEMENT
2.1      Term of Easement.  Grantors hereby grant to Grantees, their heirs, successors and assigns, a perpetual, easement as described herein for the purposes described herein.
2.2      Purpose.  The purpose of this easement is for ingress, egress and utilities over, under and across the easement described herein.
2.3    Consideration.  To create an easement for the benefit of the parties for the purposes stated herein.
2.4      Benefitted Property.  This easement is to benefit the following described real property situated in the County of Clallam, State of Washington:  [Legal Description]
2.5      Location of Easement on Burdened Property.  The location of the easement is described as follows:  [Legal Description]
2.6     Miscellaneous.  This easement shall run with the land and be binding upon the heirs, assigns, and any successors in interest of Grantors and shall inure to benefit of the heirs, assigns, and any successors in interest of Grantees.
2.7    Road Maintenance Agreement.  The parties desire to share the costs and expenses of maintaining the above-described road and wish to enter into an agreement concerning maintenance of the road, so as to insure that said road is maintained in a fashion to allow reasonable and safe travel year round to and from the property served, in accordance with the normal residential uses of said properties and in accordance with the purposes as set forth above.
2.7.1    Expenses to be Shared.  The parties agree to share costs and expenses of maintaining the above-described road in good repair commencing from the date of execution of this agreement.  Uses of a nature which would increase the burden of use on the road beyond that normally associated with a single-family residence or beyond the scope of the use of the easement as set forth herein shall require re-negotiation of this Road maintenance Agreement to insure that each party bears appropriately the expenses of maintenance generated by its use of the road.
2.7.2    Maintenance and Repairs Defined.  The repairs and maintenance to be undertaken and performed under this agreement shall include the filling of chuckholes, graveling, sanding, grading, ditching, and installation of culverts and catch basin drains.  All repairs or maintenance deemed necessary or advisable shall be undertaken under this agreement only with the prior notification and approval of each of the parcel owners.  Any of the parcel owners shall be entitled to improve said roadway in any way, but without prior agreement of the other parties as described herein, the costs of such improving shall be borne entirely by the party authorizing said improvement, and said party shall not expect or be entitled to contribution from any or all of the other parcel owners.
2.7.3    Notices.  Any notice or report required under this agreement shall be sent to the parties at an address designated by them and indicated on signature line to this agreement, unless such addresses change by written notice to each person concerned, in which event the new address given shall be used for the sending of such notice or report.  Any required notice shall be made by regular mail, properly addressed and postage prepaid.
2.7.4    Binding Effect.  This agreement is to be binding on and inure to the benefit of the owners of the properties and signatories herein and shall further be deemed a covenant running with the property, and shall be binding on the grantors and their heirs and any person who shall, after the effective date of this instrument, acquire title to the grantor's property, or any portion thereof, including any successors in interest, heirs, and assigns.
2.7.5    Apportionment of Costs.  The costs of maintenance and/or improvements authorized shall be equally shared between the parcel owners actively using the road easement.  In no way shall any of the parcel owners who are not actively using the road easement be expected to contribute anything towards the maintenance and repair of said roadways.  The phrase "actively using", as used in this agreement shall be defined to mean "active use of said roadway for access, ingress and egress to and from the primary residence and/or rental property of the parcel owner.
2.7.6    Right of Entry.  Pursuant to the requirements of maintenance and repair, said parties agree to grant a right of entry upon the above-described real property for purposes undertaken to grade, level, fill, drain, pave, build, maintain, repair, or rebuild the road as may be necessary on, over and across a property embraced within the area.
2.7.7    Enforcement.  In the event any party fails to pay his proportionate share of the total costs of such repair and maintenance, and if after the expiration of 45 days from a demand for payment of the proportionate share said defaulting party fails to pay, the other parties are authorized by the undersigned to use the provisions of Paragraph 2.7.8, and seek a Judgment against the defaulting party.  In the event that this enforcement provision is required, then the prevailing party, in addition to costs, disbursements and expert witness fees, shall be entitled to reasonable attorney's fees.  Prevailing party shall be defined as one for whom an arbitrator or judge has ruled in favor on the major issue in the case or for whom an arbitrator or judge has granted a monetary judgment.
2.7.8    Mandatory Arbitration.  Any dispute arising as to interpretation, application or scope of this agreement shall be submitted for mandatory arbitration under Clallam County Local Rules of Mandatory Arbitration (LMAR) and the Mandatory Rules of Arbitration (MAR).
Buying real estate in Sequim or Port Angeles requires due diligence in paying close attention to the unique property issues on the Olympic Peninsula and in each development.  If you are sharing roads or driveways with neighbors, I strongly recommend a well drafted Road Maintenance Agreement.
Last Updated on July 27, 2012 by Chuck Marunde