At least one Sequim agent is having the time of his life. "I love this business, and with the incredibly powerful Internet tools that are available today for buyers absolutely free, searching for your ideal home has never been easier, and it's never been more fun than it is today." This is one example of Chuck Marunde's passion to help buyers get accurate and complete information to make wise decisions. iRealty Virtual Brokers, also registered as Sequim & Port Angeles Real Estate, has more firsts than any other local broker, and here's another–a very powerful menu system to help you search and find answers to your questions.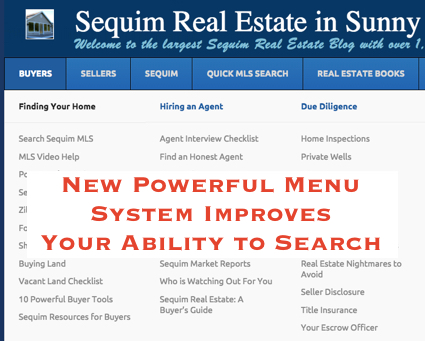 Sequim Agent Creates Another Great Tool for Buyers
The best way to see our new menu system is to simply go to the top menu above and drag your mouse across the menu and over the drop down menus that appear. The "Buyer's" menu will reveal five major columns with about a dozen titles covering a variety of important buyer issues. This is the only menu of its kind, so you can see why this Sequim agent is excited to offer this extraordinary search capacity to buyers.
This new menu is fun to use. As you drag your mouse across the menu items to the right, you see more drop down options, and you'll even see a beautiful drop down of book images and even a drop down video. I won't bore you with the complicated programming this Sequim agent had to do to make all this happen. Chuck Marunde takes great delight in making the complicated look simple, but the real key is giving buyers content-rich information on key subjects that will help them make wise decisions as they enter the best years of their lives–their retirement years.
Sequim Agent Real Estate Site
The menu system uses a very functional system of categories, posts, and pages, so many of the links will include multiple articles on the same subject. This is unquestionably the single most powerful real estate site on the entire Olympic Peninsula, and maybe even in the Northwest.
Of course, you can still search for particular subjects and phrases beyond our menu system using our powerful search tool for all things Sequim real estate: Search Sequim Real Estate. "If buyers find all this information with over 1,900 articles, many books, and MLS sites useful in helping them find a home and get answers to their many questions, I hope they will consider hiring me as their Buyer's Agent. But even if they hire someone else, they can always say this was the best source of accurate and complete information on all things about Sequim real estate," shares Chuck. Now you know what one Sequim agent has been doing.
Last Updated on September 6, 2019 by Chuck Marunde