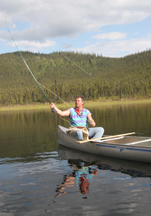 I finished raising my children in Sequim from 1994, and prior to that we lived in Las Vegas for five years, and prior to that seven years in Spokane, and prior to that 22 years in Alaska where I grew up.   I hereby testify that the weather and climate in Sequim is precisely between the two extremes found in Nevada and Alaska.
I do not miss 70 degrees below (Farenheit) in Tok, Alaska, nor the ice fog that greatly reduces visibility on the streets of Fairbanks at 50 degrees below.   We burned 10 cords of wood every winter, and guess who had the privilege of cutting and splitting the wood?   I loved it.
Nor do I miss 115 degrees in the sunny climate of Vegas.   I've been a jogger my whole life, and running daily in the desert heat at 90 to 110 degrees was . . . well, it was sweaty.   But I loved it.
But there's nothing like the in-between.   We have the Olympic Mountains, we have the rain forest, and we have sunshine down here near the water.   Talking about water, we have more beautiful water front property here than any place I lived in Alaska or Nevada.
My son, Bristol, who is a professional mixed martial arts fighter, now lives and fights in Vegas.   He called me today to tell me how nice and warm it was there, about 70 degrees.   I talked to my folks who still live in Tok, Alaska, and it was 65 degrees below.   That's a 135 degree difference on the same day.
What was it in Sequim?   About 50 degrees, and this is winter.   Home sweet home.   You gotta love it in Sequim.
[Photo taken by Chuck Marunde at Four Mile Lake up the Taylor Highway just outside of Tok, Alaska.   The only way to the Lake from the gravel road way off the beaten path known as the Alaska Highway was to pull our canoes over moss and muskeg for about two or three miles.   We did that with four wheelers.   We caught several trout and immediately went to shore and cooked them on a grate over an open fire with a little spice my sister had with her.   Wow!   Incredible!   Anybody want to go fishing up north?]
Last Updated on January 15, 2009 by Chuck Marunde