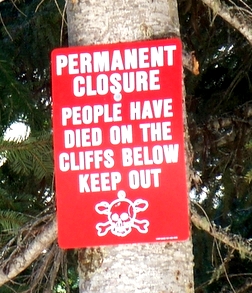 Port Angeles Homes For Sale and Sequim Homes For Sale:   The whole business is changing.   How people buy and sell real estate has been dramatically evolving, and recently the momentum of this evolution has been accelerating.   There are three ways this change is obvious.
1.   When you want to sell your home, it's no longer simply a matter of listing it with a Realtor and having your Realtor post your listing in the MLS.   That's still important, but the MLS is no longer the powerful monopoly it once was.   Realtors no longer have a monopoly on the real estate databases, and the flow of information has been blown wide open on the Internet.   And those newspaper advertisement to sell your home?   They don't work like they used to.
2.   When you want to buy a home you are no longer forced into calling a salesman or going to their office.   Now you can search the Internet and even search the MLS entirely on your own without any annoying sales people pressuring you to work with them.   In fact, the Internet is the only good way to find your next home, because the newspapers only have a handful of listings advertised.   Your ideal home is almost certainly not advertised in the newspaper when you happen to read it that Sunday.   Remember, the goal of advertising homes for sale in the newspaper is not to sell those homes, because any experienced Realtor will tell you they don't, but to get you to call that Realtor so they can sell you another house (which you could have simply found on the Internet).   I'm sorry if these truths seem a bit harsh, but wouldn't you as a buyer or seller like to know how things really work?
3.   Marketing and advertising real estate has really changed of late.   Advertising listings in newspapers has become so ineffective that Realtors all around the country have either substantially reduced their advertising, or in the case of many I know, they no longer waste money advertising listings in the newspapers.   Why?   They aren't getting calls from those ads.   It doesn't work like it used to, and it's expensive.   Over 80% of all home buyers start their search on the Internet now.   For areas like Sequim and Port Angeles where a majority of our buyers come from out of the area, especially California, Arizona, Nevada, and Texas, these buyers are not even reading the local newspaper or the local real estate magazines.   They use the Internet.   But using the Internet to sell homes is not for the uninitiated.   It has gotten extremely competitive, technologically very complicated, and requires a multitude of skills.   (Sure, anyone can post a listing on a FSBO service or on Craigslits, but that is not even close to effective Internet marketing and search engine optimization.   There is much much more to effective Internet marketing.   Much more.)
As a professional in real estate for 30 years (real estate lawyer and Realtor), I can say without any doubt that the evolution of the technology (with all the economic changes, too) of buying and selling real estate today has not reduced the need for a professional Realtor–it has increased the need.   But most buyers and sellers don't know this.   The game hasn't gotten simpler: it has changed.
What the Internet and the all changes in how real estate is bought and sold has done is provide new tools and efficient ways to buy and sell, but this has not eliminated the need for the knowledge and experience to use these tools to help buyers negotiate the best price and terms and to help sellers efficiently market and sell their homes in the least amount of time for the best price.   As I have said elsewhere, there are many traps for the unwary.   (Like the dangerous trap shown above in the photo which I took at Crystal Mountain Ski Resort.)
Read more of my articles on this blog on marketing, sales, prices, negotiating like an expert, for sale by owners, listing, legal issues, and more.   Go to:   SequimRealEstateNews.com.   You can use the search feature to find what you are looking for, and that will help you filter through the hundreds of articles.
Last Updated on August 17, 2010 by Chuck Marunde