Do you want a beautiful Sequim garden? Are you a master gardener? Do you want your back yard to be a hint of Heaven? This is a Sequim garden of a home I just sold, and even though it is a small lot, this owner has done an amazing job of making this lot a peaceful little haven to enjoy every day. He even has water trickling through the yard which adds to the mood.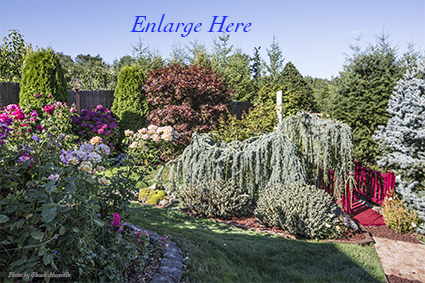 Sequim Garden Beautiful
The amount of landscaping and gardening you want to do or are willing to do to maintain your ideal property is something to consider when you are filtering homes online, although it's hard to tell from the online photos what will be required. I've learned from working with hundreds of buyers that it boils down to personal passions. Maybe you are a master gardener, or you love gardening. Our rich soil, blue hole and sunshine, the climate and the right amount of rain (with some added watering with your loving touch), makes for the perfect garden (elaborate or tiny). See this earlier article about a Sequim Garden.
Sequim Garden Expense
Another home I sold had more than a full acre beautifully landscaped and planted with a wonderful variety of flowers, shrubs, and trees. Of course, this kind of landscaping can be expensive, upwards of $50,000. But the loving touch of a master gardener can turn a boring yard into the kind of Sequim garden in which you think you've died and gone to Heaven. See this earlier article describing a Sequim garden at Fine Gardening.
Last Updated on September 7, 2019 by Chuck Marunde