When you get mutual acceptance on your home purchase, who will be your escrow officer? This an important question, because the answer does matter. Most buyers don't realize how much it matters.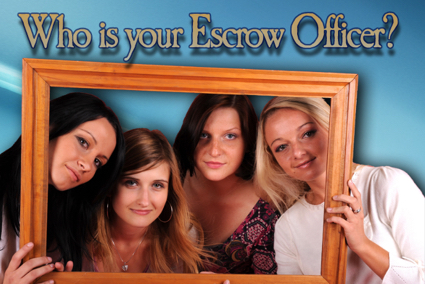 Escrow Officer Role
I've written elsewhere about the importance of hiring full time professionals who are experienced, competent, and who have integrity. That's true of any professional you hire, including your Realtor, your loan officer, and your escrow officer. But most buyers have little knowledge about the important role that your escrow officer plays in your purchase.
When you have your Realtor draft an offer on a home, you fill in a blank to identify the title and escrow company you will have handle your transaction. Title companies search the title and all documents associated with your property, and they insure that you get a clear title. The bigger and more important decision involves your choice of an escrow company and perhaps the specific escrow officer. Once your Realtor delivers your signed agreement to your escrow officer, that person runs with the ball and coordinates many critical details on your behalf.
Your escrow officer assembles all the documentation needed to close. That means your escrow officer absolutely must be a master with numbers, both debits and credits. But it also means she must be able to coordinate the loan package with your lender. This is no small feat, as lenders are notorious for getting the loan package to escrow at the 11th hour. There may also be addendums along the way that the escrow officer needs to handle, and payoff statements that must be obtained from the seller's lender, and sometimes other liens or judgements. Your escrow officer has to pay off the exact amount owed on all these underlying debts to give you clear  title, and that must be coordinated with those creditors on the exact day of payoff right after closing. The principal balance plus pro-rated interest must be exact. There is no room for error.
Escrow Officer Very Important
Your escrow officer has a very stressful job with zero tolerance for error. But there's another reason you should carefully choose your escrow officer. You also need someone who is a good communicator and can articulate any concerns or delays clearly to all parties involved in the transaction. Your escrow officer sits at the center of your transaction, and will be communicating with the title officer, both Realtors, your lender, and all creditors. An escrow officer who does not have those communication skills could create tremendous stress for you and others in your transaction. 
You may rely on your buyer's agent for the selection of your escrow officer, and maybe you will want to talk to your escrow officer. This is a critically important role in your transaction. As always, the professionals you hire will play a huge role in how smoothly your transaction goes, or doesn't go, and your escrow officer is one of your key team members.
Last Updated on September 7, 2019 by Chuck Marunde