The perfect Sequim home for sale will will vary for buyers, but here's a description of one notion of the perfect Sequim home as defined by a very large percentage of retirees who move to Sequim.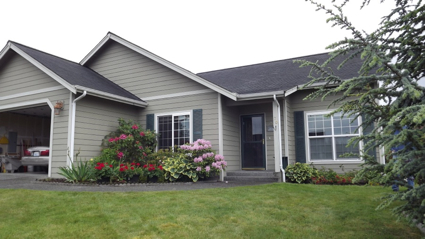 Sequim Home for Sale Perfect Floor Plan
This home is in a quiet little subdivision on the outskirts of the Sequim City limits.  Built on a small low maintenance lot, this is a very affordable retirement home.  With two bedrooms plus a den, which would be called a third bedroom if it had a closet, a roomy kitchen with lots of countertop space and an open floor plan (kitchen, dining room, living room), for many retirees this is the perfect Sequim home for sale.
Sequim Home for Sale Perfect for Your Dog
With a fenced back yard, you already have a safe haven for your dog.  With an electric awning to cover the back deck, you'll be shielded from the sun on those hot sunny Sequim days. You'll also stay dry under the awning sipping your coffee on that one day a year when it rains in Sequim, aka The Blue Hole. Does this sound like the perfect Sequim home for sale?  How long will it be for sale is hard to say, but it definitely won't be long.  [Read more about the Sequim Blue Hole or the Rain Shadow as it is often called.]
For a viewing call Chuck Marunde at 360-775-5424.  This is precisely the kind of home that sells very quickly, especially because it is listed at $199,500.  UPDATE: THIS HOME HAS BEEN SOLD.
Last Updated on September 19, 2019 by Chuck Marunde