Have Sequim home prices bottomed out?  There's good news from around the country.  One of the most widely followed measures of home price changes is the S&P/Case-Shiller home price index.  It tracks price changes monthly in 20 major U.S. cities. In December, the value of homes in the 20 cities Case-Shiller measures rose by 6.8% year-over-year.
Sequim Home Prices Compared to Nationwide
In Lost Angeles, there was a 10.2% rise in home prices last year. In 2012 housing prices rose 10.6% in Miami, 12.2% in Minneapolis, 12.9% in Las Vegas, 13.6% in Detroit, 14.4% in San Francisco, and 23% in Phoenix.  But what about Sequim home prices?  What about the Sequim and Port Angeles area?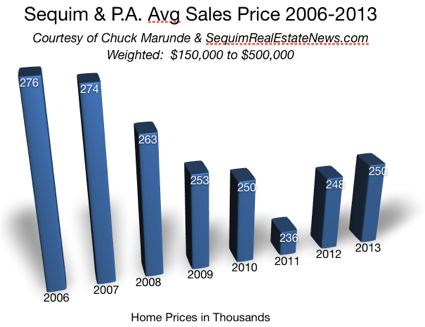 Sequim Home Prices Bottom
I compiled the sales records going back to 2006, and this graph shows the average sales price of all Sequim homes sold from $150,000 to $500,000.  Actually, I included all Clallam County, which of course is primarily Sequim and Port Angeles.  Clearly the data shows us that the average price of Sequim home prices bottomed out in 2011.  The trend is unmistakable.  From 2006 prices decline every year through 2011, and then there is a leap from $236,000 to $248,000 in 2012, and again another increase in 2013 thus far.
Sequim Home Prices on the Rise
I'm cautious about proclaiming a market recovery, and I'm not doing that here.  What I would suggest is that the sales data indicate we are in the second year of increasing prices.  That's pretty solid data demonstrating that Sequim home prices are on the increase.
Last Updated on September 19, 2019 by Chuck Marunde