Sequim home sales picked up in the last quarter of the year by a significant margin over the same time last year.  This was good news for many home sellers, but not for all.  Many still are impatiently waiting for their homes to sell.  But I have a prediction for 2013 that should encourage sellers.
Sequim Home Sales for 2013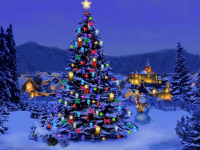 Of course real estate sales do pause during the Christmas and New Year holidays, but in my humble opinion, based on the trend in this final quarter of 2012, and based on the activity I am seeing now with appointments already in January, we are going to see more sales in the first quarter of 2013.   [By the way, this photo was not taken in Sequim.  We have no snow on the ground yet.]
Sequim Home Sales on Steady Increase
This doesn't mean sales will pick up so much that anyone who wants to sell their home will.  That would nearly describe Sequim home sales in the early 2000's up through 2005.  We are a long way from a strong real estate recovery.  
Last month's housing inventory around western Washington fell to its lowest level since February 2006, according to statistics from Northwest Multiple Listing Service. The MLS report covering 21 counties also shows year-over-year prices on closed sales area-wide increased by double-digits for the first time since March 2007. Source:  NWREporter December 2012
I've been writing for two years about how the inventory of the best homes in Sequim and Port Angeles are selling and not being replaced.  Our inventory is shrinking too.  At the same time we have an increasing number of retirees who are making their move.  With a shrinking inventory we still have increased Sequim home sales.
Sequim Home Sales 2013 to Far Exceed 2012
I believe that this trend will continue, so that sales throughout 2013 will far outpace 2012.  This certainly doesn't mean sellers can simply do what they did in 2005 to sell their homes.  The world has changed dramatically since 2005, and old ways of marketing no longer work.  In addition, buyers' behavior is different, not to mention that they search for their homes with completely new tools.  Newspapers are dead when it comes to selling real estate, and the Internet reigns supreme, and buyers know how to use it.  It's a different world, and sellers need to adjust their marketing plans accordingly.  Sequim home sales are picking up but sellers will have to adapt to the changing times. 
Last Updated on December 24, 2012 by Chuck Marunde