Sequim home sales in the first half of 2012 reveal a lot about the Sequim real estate market.  I've compiled data from the Olympic Listing Service for the first six months of 2012 showing Sequim home sales and Port Angeles, too.
Sequim Home Sales 1st Six Months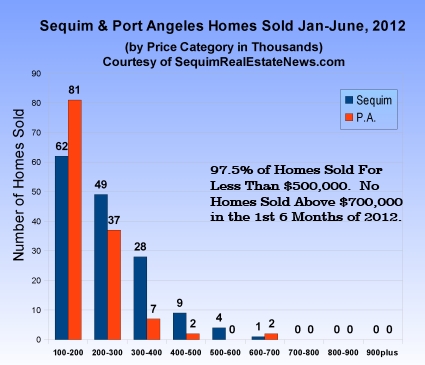 Sequim Home Sales Interpretation
It's no surprise that the majority of Sequim home sales are from $100,000 to $400,000, but what may be surprising is that so few homes are selling above $400,000.  As I've shown on the graphic above, 97.5% of all Sequim home sales are under the price of $500,000, and in the first six months of 2012 not one home has sold above $700,000.  That's disconcerting for homeowners trying to sell in that price range.  I will add that I recently sold a home for $725,000 in June but it is not represented on this chart because it actually closes in the first week of August.
Sequim Home Sales of Luxury Homes
It's clear from this data that Sequim home sales of luxury homes or homes in the higher price ranges are very slow this calendar year.  There are many factors that contribute to slow sales of higher priced homes.  Buyers from California, Colorado, and other states are up against tough markets, and selling their homes first has been exceedingly difficult, although sales have picked up in selected areas of the country.  In the San Francisco Bay area buyers are competing against each other for some homes and forcing prices upward, even above the listing prices.
Even in Sequim I've written about how competition has heated up for the ideal retiree home, a three bedroom, two bath home in a nice area and priced from $250,000 to $350,000.  Still this leaves the upper priced homes sitting on the market without qualified buyers who are ready, willing, and able to close.
As I explain to clients, one of the most important things they can do right now in this real estate market is make sure their home is effectively marketed by a professional who has experience to do the job.  No professional can guarantee a buyer will come along in any time period, but the first task is to get your home marketed to as many qualified buyers as possible.  I don't believe in luck, but I do believe in preparation, hard work, and perseverance in marketing.  Of course, one needs creativity in this technology age, and one needs to tap into a powerful Internet system.  But having done all that, I am reminded of a title to a book I read many years ago.  The book title is All You Can Do Is All You Can Do, and the subtitle is And That's Enough.  If you've hired a great Realtor and your home is getting great exposure, leave the rest to destiny, at least as far as Sequim home sales are concerned.
Last Updated on July 29, 2012 by Chuck Marunde