The Sequim Home Show was held recently at the Sequim High School gym, and lots of vendors had their booths and tables set up to show their wares.  There were home builders, cabinet makers, roofing companies, window installers, and all kinds of home construction and remodeling companies represented.
Sequim Home Show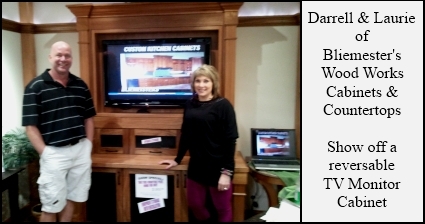 Sequim Home Show
I attended the Sequim Home Show, but mostly because I am fascinated with how businesses in the real estate industry market to their customers.  I am a marketer as a Realtor, and I love marketing.  I have been a student of marketing in the real estate industry for almost 30 years.  My passion compels me to study marketing, and I am constantly learning what works and what does not work.  In this economy, this is no subject of little importance.  It is my livelihood, and for the businesses at the Sequim Home Show, it is their livelihood, too.  So how we market and where we put our money and time is incredibly important.
Sequim Home Show
As part of my personal continuing education and as a fun endeavor, I informally surveyed a few vendors, friends in the business.  Did any of the vendors expect to actually get any customers at the Sequim Home Show?  No.  Did any of them expect to get any commitments at the Sequim Home Show?  No.
So what did these vendors expect?  They all seemed to be resigned to the fact that these shows have not produced customers in the past and will not likely produce customers now.  The term "branding" was thrown about by a couple of vendors.  One home builder told me that his business was strictly work of mouth.  Here's what I took away from these conversations.  Most of these vendors are technicians in their specialty, but I think it is fair to say that they are not and never have been marketing experts.
Imagine a good auto mechanic who wants to reach out to more customers.  Most mechanics don't have formal educations in sales and marketing, so they typically listen to their newspaper salesman, who talks them into running ads periodically.  The mechanic has no idea if this works, but the newspaper salesman tells him it does.  The mechanic has no way of tracking the effectiveness, or lack thereof, of any of his past print ads.  But today the vendors at the Sequim Home Show openly shared that print advertising is no longer very effective, and it is far too expensive.  So, they do what they can.  They set up a booth at a home show.  They hope it brings customers, but they have a feeling it will not.  They hope it will help with branding, but they can't really describe how branding works, if it does, for their business.
I enjoyed going to the Sequim Home Show to see some of my friends in the business and chit chat with others.  But the cold hard reality may be that home shows are a blast from the past, from traditional marketing techniques that no longer are effective.  Who makes money from home shows?  Think about it.  The media companies that put on the home shows charge fees for the booth spaces, but even more than that, they charge some substantial print advertising and radio rates to promote the vendors at the home show.
I love marketing.  I love watching what other businesses do, and what they don't do.  I think I learn more from my mistakes and the mistakes of others than from the success stories.  Realtors are struggling with effective marketing, too.  But I'm having a blast with my technology and Internet marketing tools.  They work.  I do zero print ads and zero radio ads.  They don't work anymore in the real estate business.  Clients know how to find me, and I love my clients.
The Sequim Home Show is another interesting study in marketing, but I don't think the Sequim Home Show was much help to buyers or sellers of real estate.
Last Updated on September 4, 2011 by Chuck Marunde