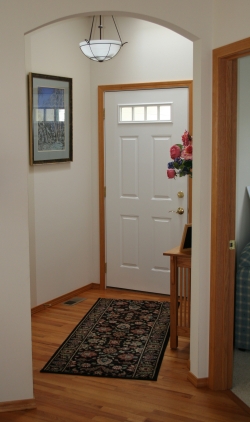 Looking at homes for sale after you've narrowed the list of possible homes in the MLS down to a manageable number for viewing does require a discerning eye.  All homes are not equal.  All custom built homes are not of the same quality.  Old homes and new homes have substantially different construction design and materials.  When I walk clients through a home, we are always comparing the home to what we have already looked at, and that includes a discerning examination of the quality of materials and workmanship.
I want to mention one thing today that is worth noting when you are viewing homes.  Wood trim is everywhere in a home.  Doors are trimmed, windows are trimmed, and walls are trimmed at the floor and at the ceiling.  There is often trim around cabinets and fireplaces, and you'll find trim in every room in the house.
Here's a helpful, albeit a minor, but no less important tip on judging quality and comparing homes.  Look at the trim in every room and observe the quality and type of trim used.  That tells you something about the home as you compare it to others.  A very cheap trim tells you that the home is built with cheap materials.  A builder would never use the cheapest trim on a custom built home that was otherwise built with the best materials, would he?   Or the trim may be a mid-quality trim.  That's instructive, too.  If it is the highest quality wood trim, that tells you volumes about how the rest of the home was built too.  Mind you, this is not conclusive proof, just good evidence.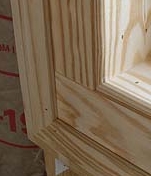 Then observe the workmanship.  Are there spaces and gaps at the corners and where the trim has seams?  If you see lots of spaces and misalignments, what does that tell you about the workmanship under the house, in the attic, and in the walls?
If you are looking at what appears to be a high quality custom home, and you find some significant spaces or gaps in trim, particularly at the ceiling level in large rooms where there are many seams, but everywhere else in the home the trim looks fantastic, there may be a reason.  Actually, there could be two reasons.  First, if wood trim is not dried or acclimated prior to installation, it will later shrink and leave small gaps, perhaps as much as 1/16th of an inch, or even more.  Second, if the home is not lived in full time and kept an even temperature, this could cause a problem.  If the owner travels extensively or leaves the home vacant for long periods of time, and the temperature is kept at 40 or 45 degrees, but turned up to 70 degrees when inhabited, that will wreak havoc with good wood, and could cause the kind of expansion and shrinkage that could leave spaces or gaps.
This little tip is not all-conclusive, but try it.  You will be surprised at how consistent and helpful it is to compare trim in Sequim homes you are considering buying.
Last Updated on July 27, 2012 by Chuck Marunde