There are many Sequim homes for sale, but I'm pleased to announce that I sold another Sequim home this week.  I represented the buyer as their Sequim Buyer's Agent.  This home is midway between Sequim and Port Angeles, sits on one and a quarter acres of cleared level property, all of which is neatly mowed and is on the Agnew Irrigation system, so it gets plenty of water.
Sequim Homes for Sale and Contingencies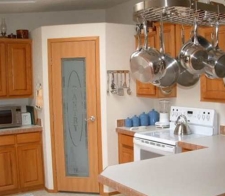 One of my Realtor friends told me that the local Realtor's Association meeting usually gets the weekly question, "Has anyone sold a home this week?"  He said it was rare lately that anyone would raise their hand, and when someone did, everyone would applaud.  Of the large inventory of Sequim homes for sale, I am very fortunate to be selling homes in this real estate market, and I'm busier than I've ever been.
Sequim Homes for Sale and Inspections
Tomorrow we already have the home inspection and the septic inspection scheduled, and I'll be attending both inspections with my clients present.  Oftentimes my clients are not able to be here for the inspections, and I always attend in their stead.  I think it's important for my clients to know everything they can know about a property before they waive any inspection contingencies, so I attend the inspections and watch the inspector carefully and typically ask relevant questions.  Having been through the kinds of problems we often see locally in Sequim homes for sale, I'm able to help my clients work through potential mine field issues and get them appropriately resolved before closing.
Sequim Homes for Sale and Septic Systems
Every area (every county in every state) has its unique real estate issues.  Tomorrow at the septic inspection, I'll be watching and listening to any potential issues regarding the septic tank levels (liquids and solids), and as the inspector runs water into the drainfield, I'll be watching to see if he observes any problems with the drainage.  A septic tank should not always be drained.  Draining the tank when the level of solids is too low can actually damage the bacteria growing process on which the septic system relies.
Of the Sequim homes for sale that are in great condition and have no apparent problems, I still always recommend a professional home inspection.  Tyler Conkle of Vanguard Home Inspections is one of the best.  He pours over, through, around, and under a home for as long as it takes, and his knowledge of every aspect of construction, materials, electrical systems, and heating and cooling systems is well worth the $400 (plus or minus) fee that he charges.  If there is a problem, or if there is the potential for a problem, he will raise a red flag, and this is the kind of professional detail that my clients really appreciate.
When you're retiring to Sequim or Port Angeles, you want to be absolutely certain that the home you are buying is in good condition and that there will be no surprises.  Of the many Sequim homes for sale that my clients could have purchased this week, they found the perfect home for them.
Are you retiring to Sequim?  We have some beautiful Sequim homes for sale.
Last Updated on July 27, 2012 by Chuck Marunde