We have many Sequim homes for sale in the current inventory, but as I will explain, the market is bifurcated and buyers have a bigger advantage than many sellers seem to realize.  You can see more photos and details on the homes in this photo montage by clicking on the image or by going to Sequim homes for sale.
Sequim Homes for Sale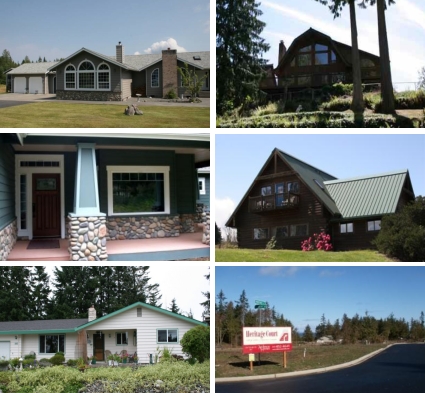 Sequim Homes for Sale in a Buyer's Market
This real estate market is bifurcated.  In other words, we really have a market in which Sequim homes for sale are divided into two main categories.  The first category is the majority of the inventory, perhaps 95% of all Sequim homes for sale in this market are not exactly what qualified retirees from California are looking for.  Of the many retirees I work with, here is the feedback they give me.
Sequim Homes for Sale with Issues
95% of this large segment of the Sequim homes for sale are either 1.) not in an area that they like, 2.) not their idea of an ideal lot, 3.) not a home that has the curb appeal they want, 4.) not the floor plan they want for their ideal retirement home, 5.) too old with too many potential issues, or 6.) over priced by so much, it's not worth making an offer as there are so many other homes for sale at more reasonable prices.
The second segment of this bifurcated market consists of 3% to 5% of the Sequim homes for sale that are precisely what retirees are looking for and at prices that are reasonable.  These are the homes in the bell curve where the vast majority of retirees want to be.  Here's what retirees tell me they want:  a three bedroom, two bath home, with 1,800 to 2,400 square feet, with a nice garage and preferably a shop, a modern kitchen with custom wood cabinets, nice countertops and good appliances.  Many want a wood stove or propane stove, a heat pump, and quality and comfort are important.  Privacy and acreage is also important.
There are homes outside these parameters that are selling, but not very many.  Two story homes are harder to sell, because retirees, no matter how healthy and athletic, are saying, "We prefer a single level so that in our elder years we don't have to go up and down stairs."  The popular 3,000 to 5,000 square foot homes of the '70's and '80's are no longer in high demand, and in fact, these large homes are considered by most retirees as too big to maintain, unnecessarily expensive when it comes to property taxes, and a waste of energy in the winter and on the hot summer days.
This generation, which is also my generation (I'm 56) is not ostentatious, but practical, interested in lifestyle and quality of life.  But they also understand value when they see it, and they know this is a buyer's market.  Sellers cannot dictate, but these buyers are not unreasonable.  They are practical but they will negotiate from a position of strength.  They are conservative and careful with their money.  They will do their due diligence to find the ideal home, do their due diligence to find a competent and professional buyer's agent, and they will negotiate intelligently.  If a seller is obstinate and will not negotiate reasonably within the context of this real estate recession, this kind of buyer simply moves on and finds a seller who will negotiate reasonably, or they will buy a lot and build their own dream home exactly as they want it.
You can see the Sequim homes that are selling in each price category in this bar chart at Sequim Homes Selling.  By the way, foreclosure homes are in the 95% of the market that retirees do not want, at least in the Sequim and Port Angeles area.
Sequim homes for sale in this small segment of this bifurcated market are selling.  I'm selling one home a month, and these are the clients and the kinds of homes I am selling.  As a point of interest to buyers, you cannot necessarily say that you have all the time in the world to select a home, because the best homes are being slowly cherry picked, and they are permanently taken off the market.  There are not very many of these homes, so with interest rates at historical lows, and with home prices bouncing around the bottom, this is–in my humble opinion–a good time for a qualified buyer to find and buy their Sequim home.  The majority of retirees who move to Sequim tend to gravitate toward the same three or four dozen homes for sale.  Isn't that interesting?  This is why I say buyers are cherry picking the best of the best.  That perfect home you saw last week and that you intend to come and look at next month may well be sold before you get here.  I recognized this because it keeps happening to my clients.  At first I was surprised, but once I figured out the market was bifurcated, it all made sense.
While buyers are few and far between, Sequim homes for sale in this bell curve are selling.
Last Updated on September 4, 2011 by Chuck Marunde