Of the Sequim homes for sale, how many are selling and in what price ranges, and how does Sequim homes for sale (and sold) compare to Port Angeles homes sold?  I compiled data from the Sequim MLS (the Olympic Listing Service) and created this chart comparing sales of homes in both areas.  Unlike some charts where I only include site-built homes, this data includes all categories of homes, site-built, off-site built (manufactured and mobile), condos, townhouses, and duplexes.  The bars represent sales in each price range starting with $200,000 to $299,000, and so on.
Sequim Homes for Sale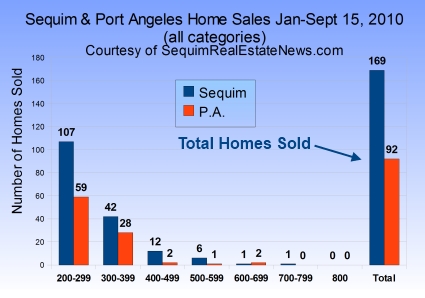 Sequim Homes for Sale
It's no surprise that the total Sequim homes sold from January 1 of this year through September 15th is more than the total homes sold in Port Angeles.  Sequim sales were 169 compared to 92 for Port Angeles.  How does that compare to prior years?  In our peak year of 2005, total Sequim home sales over the same time period were 366 and in Port Angeles total homes sold was 170.  So far this calendar year, Port Angeles home sales are 54% of Sequim's, and of the total number sold, Port Angeles home sales represent 35% of homes sold with Sequim selling 65% of all homes.  In other words, 2/3rds of all homes selling are in Sequim and 1/3 are in Port Angeles.  If we weighted those numbers based on population, the difference would be even more significant, because the population of Sequim is only 4,000 while the population of Port Angeles is 25,000.  One might argue that the Sequim population is much larger with inclusion of the sales outside the city limits, but the same argument could be made of Port Angeles.
It is apparent that retirees generally prefer Sequim over Port Angeles even if it means paying a little more for their home or lot.  It's also apparent that the vast majority of homes sold are in the price range of $200,000 to $399,000.  [I did not include homes sold under $200,000.  It's rare that any of my retiree clients find a home below $200,000 that they want to live in for the rest of their lives without having to do major upgrades or compromise in other ways.]  In fact, this means that over 90% of all homes sold so far this year are under $400,000.
Sequim Homes for Sale are More Expensive
Sequim homes for sale are slightly higher in the listing prices and sold prices than Port Angeles.  How much is hard to say with any statistical meaning, but my experience tells me that a comparable home in the $300,000 to $400,000 price range could easily be $25,000 to $50,000 less in Port Angeles.   If you're looking at Sequim and Port Angeles for retirement, it's good to know that the listing prices of Sequim homes for sale is slightly higher than Port Angeles homes.
Last Updated on July 27, 2012 by Chuck Marunde